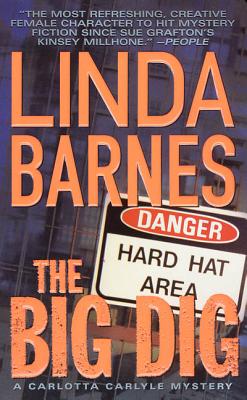 The Big Dig (Carlotta Carlyle Mysteries #9) (Paperback)
Minotaur Books, 9780312989699, 352pp.
Publication Date: August 18, 2003
* Individual store prices may vary.
Description
Carlotta Carlyle, the six-foot-tall redheaded private investigator, thought that working undercover searching out fraud on Boston's Big Dig would be a challenging assignment. After all, the Big Dig, the creation of a central artery tunnel running beneath crowded downtown Boston is an engineering marvel, the largest urban construction project in modern history, a fourteen-billion- dollar boondoggle in the eyes of protesters. Playing a mild-mannered secretary working out of a construction trailer is not quite the thrill ride she had in mind.
Carlotta decides to moonlight, taking on a missing person's case, but the search for Veronica James turns up one dead end after another. So do her fraud investigations on the Dig, and soon it looks like Carlotta has dug herself into one big hole. But then a break-in at Veronica's, coupled with the mysterious death of a construction worker on one of the sites, stirs up a storm, and soon enough Carlotta is in over her head in more ways than one...
About the Author
Linda Barnes is winner of the Anthony and American Mystery Awards, an Edgar Award finalist, and the author of the Carlotta Carlyle mysteries, including Heart of the World and Lie Down with the Devil. She lives in the Boston area with her husband and son.
Praise For The Big Dig (Carlotta Carlyle Mysteries #9)…
"The most refreshing, creative female character to hit mystery fiction since Sue Grafton's Kinsey Millhone." —People
"Carlotta Carlyle combines the sensitivity of Robert Parker's Spenser with the stubbornness of Paretsky's V.I. Warshawski and she's rapidly carving out a place of her own." —Chicago Tribune
"Carlotta is an engaging narrator with a brisk, easy-going style...a worthy competitor in the private eye business." —Washington Post
"A shrewd piece of writing, Well-researched and smartly told." —Marilyn Stasio, The New York Times Book Review
"Like the best of the new detectives, V.I. and Kinsey, [Carlotta Carlyle] is a woman of wit and gravity, compassion and toughness, a heroine worth spending time with.... [Those of us] who yearn for whodunits with character as well wrought as plot, can only thank Linda Barnes." —Susan Isaacs, The New York Times Book Review
"Move over Spenser, make permanent room on the streets of Boston for another sleuth who's big (six feet one), strong and tough as nails but soft at the core." —Entertainment Weekly
"Her first person prose is well-honed, and her touch is sure enough to float her fast-paced narrative while still allowing for sharp development of an intriguing cast of characters...Best of all, Barnes can turn a phrase well enough to make even Paretsky and Grafton jealous." —Houston Chronicle
"It's always a pleasure to spend time with this zesty detective...Carlotta has class and spirit to spare." —Baltimore Sun
or
Not Currently Available for Direct Purchase