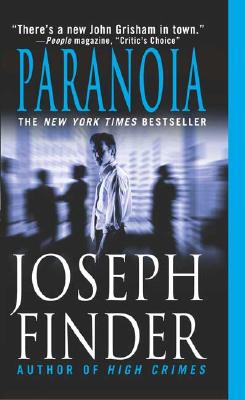 Paranoia
Mass Market Paperbound

* Individual store prices may vary.
Other Editions of This Title:
Digital Audiobook (12/31/2003)
Mass Market (7/30/2013)
Hardcover (12/23/2004)
Paperback (4/1/2004)
Audio Cassette (1/1/2004)
Paperback, Spanish (4/1/2008)
Paperback (1/17/2007)
Paperback (11/1/2004)
Mass Market Paperback (2/7/2006)
Pre-Recorded Audio Player (1/1/2004)
Paperback (7/30/2013)
Description
It was only a prank: diverting cash from Wyatt Telecom's executive slush fund to throw a retirement bash for a member of the loading dock crew. But when corporate security catches up with Adam Cassidy, a low ambition junior staffer at the high-tech behemoth, they call it something else: embezzlement, to the tune of nearly $80 grand.
Ruthless CEO Nick Wyatt is impressed by Adam's scheming, and offers him one way out-take on the role of a rising corporate hotshot and infiltrate Wyatt's rival, Trion Systems. His mission is to get close to Trion's legendary founder Jock Goddard, and his ultra-secret "Project Aurora," and report back to Wyatt.
With Wyatt pulling the strings and a dramatically improved identity, Adam is set up as Trion's new boy genius. Suddenly, he's got a sweet new Porsche, a closet full of $1,500 suits, and even a lovely lady who thinks he's a dream. But it's all just a mirage, because Adam is about to learn that nothing is what it seems and that it isn't paranoia...everyone is out to get him...
Praise For Paranoia…
"Jet-propelled...this twisting, stealthily plotted story...weaves a tangled and ingeniously enveloping web...[with a] killer twist for the end." -The New York Times

"Last year belonged to Dan Brown's The Da Vinci Code...this year's first contender for Page Turner of the Year is Joseph Finder's Paranoia."-USA Today

"Riveting...perhaps the finest of the contemporary thriller novelists, Finder is reminiscent of Michael Crichton, only with more character development and less slavish attention to detail...in the case of Paranoia, he's an expert on suspenseful storytelling that is at once slick and substantive...you may think you've read one mystery too many. Find Finder and you'll think again."-Pittsburgh Post-Gazette

"Kudos to Joseph Finder...in Finder's lively prose, even his thumbnail sketches come alive...it may go without saying that in a thriller of this quality, just about everyone has a story that's other than it first appears. What sets Paranoia apart from others of its genre is not only Finder's fun, chatty prose, but also his command of the setting. A former Sovietologist, the author knows his spy stuff-and has researched well the ins and outs of post-Enron corporate security...in a way, it's an intellectual puzzle that he has shaped into a thriller."-Boston Globe

"An exciting, breathless thriller that doesn't slow down until he has nailed that last, surprising twist in Paranoia...the premise is so well-executed, the action so exhausting and the characters so realistically shaped...in just his fourth novel, Finder firmly joins the elite group of today's outstanding thriller writers...Finder keeps the energy high and the situations plausible...just when Paranoia seems to be on a predictable path, Finder pulls a twist that is the perfect caper...a superior modern thriller."-Sun-Sentinel (Orlando)


"Combining nail-biting suspense with state-of-the-art technology, it's sure to become one of the hotter books this year...Finder excels in keeping the reader guessing until the last sentence, literally."-Dallas Morning News

"Paranoia is a cleverly nuanced suspense story. It builds slowly and relentlessly, developing character and plot, creating intrigue...fresh, original, and without cliché, this is a cerebral, contemporary thriller that ends with a wrenching twist followed by a supple extra turn."
-Boston Herald

"A superbly edgy read...fraught action scenes worthy of the best heist movies...in Paranoia, Finder mines a rich vein of scary entertainment...grab[s] readers by their throats the way The Da Vinci Code did."-New York Daily News

"Page-turning perfection...dead-on dialogue...palpable tension...Finder has that rare knack for instantly pulling the reader into the story and then tops that with surprises within surprises."-Cleveland Plain Dealer

"Terrific...riveting...practically redefines the high-stakes, high-tech thriller. It's the best novel of its kind since Michael Crichton's Disclosure."-Providence Journal-Bulletin

"Fast, funny, and very, very topical."-Toronto Globe and Mail

"A terrific thriller...expertly paced and full of suspense and surprises."-San Jose Mercury-News

"Masterfully told and thoroughly engrossing."-People Magazine

"This novel is the real deal: a thriller that actually will keep readers up way past their bedtimes... relentless suspense...a first-rate surprise ending packs a wallop...the most entertaining thriller of 2004." -Publishers Weekly, starred review

"The archetype of the thriller in its contemporary form...late in the book we discover how completely we have been fooled, and with real escapist pleasure."-The New Yorker

"Edge of your seat action...you'll think twice about who's watching you at work!"
-Washington Post

"Fun...movie-ready...twists aplenty...the fear of seeing Cassidy exposed as a spy...provides more chills than any ghoul with a chain saw." -Entertainment Weekly

"Paranoia is a built-for-speed thrill ride. What raises it above...is its author's verbal and satirical flair."-Wall Street Journal

"Paranoia is an incredibly clever novel. I love Joseph Finder's writing, and this time, he surpasses himself with some of the best dialogue and characterizations I've read in a long time. The plot is reminiscent of a classic Cold War spy story, but it's set in a modern, high-tech corporation, complete with espionage, moles, double agents, and the spy who wants to come in from the cold. If there's such a thing as an instant classic, this is it." -Nelson DeMille, author of Up Country

"One of those all-too-rare but absolutely unforgettable books that rewrites the rules for contemporary thrillers. Finder's loyal fans have long known what a terrific writer he is, but with Paranoia he has written what is destined to be a classic of suspense fiction. Paranoia is a knockout-a fresh, original, and compelling novel that is impossible to put down."
-Daniel Silva, author of The Confessor

"The real thing-a sleek, hip, and fast-paced thriller that gets its hooks in you from the very first page. It's a terrific combination of nail-biting suspense, great characters with depth and real heart, and a fresh, original voice." -Lisa Scottoline, author of Dead Ringer

"Combines a fresh voice, terrific characters, and high-octane suspense. Finder catapults himself into the front ranks of contemporary thriller writers." -Harlan Coben, author of No Second Chance

"Imaginative and original, this is a gripping thriller with three characteristics too rare in the genre: humor, heart, and good writing." -Detroit Free Press
St. Martin's Press, 9780312992286, 466pp.
Publication Date: January 1, 2005
About the Author
Joseph Finder is the author of several "New York Times" bestselling thrillers, including "Buried Secrets," "High Crimes," "Paranoia "and the first Nick Heller novel, "Vanished." Killer Instinct won the International Thriller Writers Award for Best Thriller, and "Company Man" won the Barry and Gumshoe Awards for Best Thriller. "High Crimes" was the basis of the Morgan Freeman/Ashley Judd movie, and "Paranoia" was the basis for 2013 film with Liam Hemsworth, Harrison Ford and Gary Oldman. "Killer Instinct" is also in development a a major motion picture. Born in Chicago, Finder studied Russian at Yale and Harvard. He was recruited by the CIA, but decided he preferred writing fiction. A member of the Council on Foreign Relations and the Association for Former Intelligence Officers, he lives in Boston, Massachusetts.