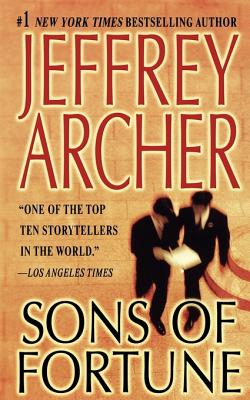 Sons of Fortune (Mass Market)
St. Martin's Paperbacks, 9780312993535, 544pp.
Publication Date: December 7, 2003
Other Editions of This Title:
Hardcover (5/1/2007)
Audio Cassette (2/1/2003)
* Individual store prices may vary.
Description
#1 New York Times bestselling author Jeffrey Archer has mesmerized thousands of readers over the years with his riveting novels and unforgettable characters. Now he returns with another remarkable novel that proves he is still one of the most gifted writers of all time...
In hushed maternity ward, an infant dies, while twin brothers thrive. By morning, one mother is told that her only child is doing fine. Another is told that she has tragically lost one of her sons...
Twins seperated at birth, Nathaniel Cartwright and Fletcher Davenport have been raised in different worlds, and have both thrived among the best and brightest of their generation. In an era of violent change, freee love, and blind ambition, Nat goes off to war, while Fletcher enters political combat. With each choice they make--in love and career, through tragedy and triumph--their lives mirror one another...until a high-profile murder case brings them together. Until a high-stakes political battle turns them into rivals. Until a decades-old secret is exposed...and two powerful men must confront their bonds of fate and fortune.
About the Author
JEFFREY ARCHER was educated at Oxford University. He served five years as a Member of Parliament in the House of Commons and has served twenty-six years as a Member of the House of Lords. Now published in 97 countries and more than 37 languages, all of his novels and short story collections—including Kane & Abel, Only Time Will Tell and This Was a Man—have been international bestsellers. Jeffrey is married with two sons and three grandchildren, and lives in London, Cambridge and Majorca.
Praise For Sons of Fortune…
"Archer provides a fine read with a keen sense of the good and the bad in people and the importance of kinship...[he] masterfully creates a great villian in Elliot, who jumps off the pages in all of his vengeful and shady glamour" —Los Angeles Times
"One of the top ten storytellers in the world." —Los Angeles Times
"A master at mixing power, politics, and profit into fiction." —Entertainment Weekly
"Archer is a master entertainer." —Time
"Archer plots with skill, and keeps you turning the pages." —The Boston Globe
"Cunning plots, silken style...Archer plays a cat-and-mouse game with the reader." —The New York Times
"A storyteller in the class of Alexandre Dumas...unsurpassed skill...making the reader wonder intensely what will happen next." —The Washington Post