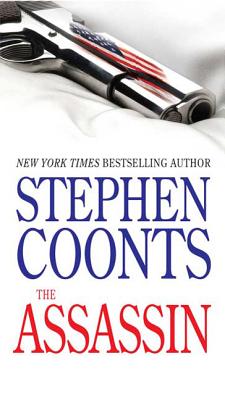 The Assassin (Paperback)
A Tommy Carmellini Novel
St. Martin's Paperbacks, 9780312994464, 512pp.
Publication Date: August 4, 2009
Other Editions of This Title:
Digital Audiobook (8/4/2008)
Digital Audiobook (8/4/2008)
Hardcover (8/5/2008)
CD-Audio (12/2/2014)
(8/5/2008)
* Individual store prices may vary.
Description
From Stephen Coonts comes a novel of high octane excitement, featuring Tommy Carmellini in his most dangerous mission yet: The Assassin.
In the finale of Coonts's last novel The Traitor, the ruthless and brilliant Al Qaeda leader who nearly succeeded in blowing up a meeting of the Group of 7 in Paris slipped the noose and escaped. But Abu Qasim has another trick up his sleeve: he has offered to pay a the Mafia a fortune to help him bring New York to its knees.
The CIA learns that something is up and a worried president sends his best—Jake Grafton and his secret weapon, Tommy Carmellini. Tommy is soon in grave danger as he tries to piece the deadly puzzle together. Set amidst ticking bombs and flying bullets, the stakes have never been higher. Will Tommy put it all together in time t stop the disaster? Or will the terrorists set events in motion that will leave America reeling?
About the Author
Stephen Coonts is the author of The Disciple, The Assassin, and the Deep Black and Saucers series, among many other bestsellers. His first novel, the classic flying tale Flight of the Intruder, spent more than six months at the top of The New York Times bestseller list. A motion picture based on the book was released in 1991. His novels have been published around the world and translated into more than a dozen languages. In 1986, he was honored by the U.S. Naval Institute with its Author of the Year Award. He is also the editor of four anthologies, Combat, On Glorious Wings, Victory and War in the Air. Coonts served in the Navy from 1969 to 1977, including two combat cruises on the USS Enterprise during the last years of the Vietnam War.
Praise For The Assassin: A Tommy Carmellini Novel…
"Exciting…. The action moves swiftly to its Hollywood ending." —Publishers Weekly
"Tommy has been the star of the last two Grafton books, and in The Assassin he matures and develops into a complex and compelling character that should provide Coonts with many new and refreshing plot opportunities…An abundance of intrigue and betrayals…This is the best thriller that Coonts has written in some time. However, all recent books featuring Carmellini are superb." —The Roanoke Times (Virginia)
"This book has more twists and turns than an old staircase…Coonts remains the master of the great techno-thriller." —James Myers, The Entertainment Critic Book Review
or
Not Currently Available for Direct Purchase