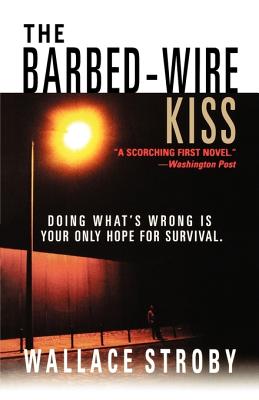 The Barbed-Wire Kiss
Mass Market Paperback

* Individual store prices may vary.
Other Editions of This Title:
Paperback (2/25/2003)
Hardcover (2/1/2003)
Description
Long Branch, Asbury Park, Ocean Grove. The Jersey Shore ain't what it used to be, but ex-state trooper Harry Rane still calls it home. After his wife's death, Harry got careless, got shot, and he left the force. He's a changed man, leads a quiet life, except when it comes to helping his friends...

Now an old buddy of Harry's wants a big favor. He owes $50,000 to a Jersey crime boss and needs Harry to get him more time to repay the loan. That sounds like a plan...except for the green-eyed, redheaded complication. The mobster's married to a gorgeous lady who once fell hard for Harry. And history is about to repeat itself.

Trying to help his friend pay off his debt but inexorably drawn to the girl, soon Harry is between a rock and a hard place. His chances of getting up and staying alive look to be about a million to one....
Praise For The Barbed-Wire Kiss…
"Wallace Stroby writes descriptive prose as shiny and sharp as a surgical instrument." -Chicago Tribune

"Original and exciting...Stroby's dazzling debut manages to wake us up like the slap of a wave on the New Jersey shore." -Publishers Weekly (starred review)

"Stroby does wonders with his blue-collar characters."-New York Times Book Review

"A scorching first novel that mixes the melancholic heart of tough-guy fiction with a fierce and violent gangster plot." -Washington Post

"Every so often a debut novel comes along that is so arresting and powerful you just know the author will go on to a fine career. Such is The Barbed-Wire Kiss."-Cleveland Plain Dealer

"A fast-paced debut...prepare to have your V.Q. (violence-quotient) challenged to the max."
-Kirkus Reviews

"The Barbed-Wire Kiss is as gritty and tough as its Soprano-land New Jersey setting, and Wallace Stroby is a no-nonsense guide and a fine writer."-C. J. Box, author of Savage Run

"A new member has been added to the Michael Connelly-Robert Crais-Harlan Coben club of crime fiction. This work marks the debut of a novelist of great promise."-Gerald Petievich, author of To Live and Die in L.A.

"Drawing on his career as a journalist living on the Jersey Shore, Stroby has written a novel that is part Sopranos, part Springstein, but in all a unique and stunning debut."-Bartholomew Gill, author of The Death of an Irish Sinner

"The Barbed-Wire Kiss is one of those books that gut-hooks on the first page and never lets you go."-John Gilstrap, author of Scott Free and Nathan's Run

"Intense and gritty, The Barbed-Wire Kiss weaves a melancholy path through the decaying skeletons of the Jersey shore's dead resort towns, a dark, brooding landscape strobed by lightning strikes of passion and mayhem. If James Lee Burke had grown up in Asbury Park, he might have written The Barbed-Wire Kiss."-F. Paul Wilson, creator of Repairman Jack
St. Martin's Paperbacks, 9780312995478, 352pp.
Publication Date: March 1, 2004
About the Author
Wallace Stroby is an editor for the "New Jersey Star Ledger" and lives in New Jersey. This is his first novel.
or
Not Currently Available for Direct Purchase