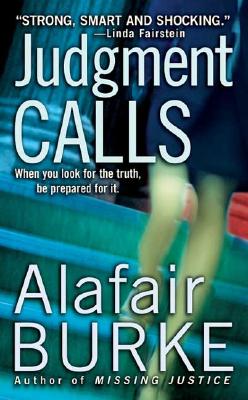 Judgment Calls (Mass Market Paperback)
St. Martin's Paperbacks, 9780312997205, 368pp.
Publication Date: May 1, 2004
* Individual store prices may vary.
or
Not Currently Available for Direct Purchase
Description
After three years on the job in Portland's Drug and Vice Division, Deputy DA Samantha Kincaid gets what she wants: her first case with the Major Crimes Team. Kendra Martin, a 13-year-old runaway, has been found drugged, viciously assaulted, and left for dead in the Columbia River Gorge. Despite pressures to kick the case to assault, Samantha goes for attempted murder. Unfortunately the girl's story isn't gelling. Then again, neither is the alibi of the suspect she ID'd, a low-life who insists he's innocent. One thing is certain. Kendra knows the streets better than Vice-and Samantha's following her down every last one of them to crack the case.

But the road to the truth is more dangerous than Samantha dreamed, leading to an earlier death-penalty conviction, a teenage prostitution ring, and threats to Samantha's own life. When the possibility of a serial killer enters the fray, it sends Samantha's trial into a tailspin, and tests her judgment-in both her professional and personal life-to the very death.
About the Author
A former deputy district attorney in Portland, Oregon, Alafair Burke now teaches criminal law at Hofstra School of Law and lives on Long Island, New York. She is the daughter of acclaimed crime writer James Lee Burke. Henry Holt will publish the second Samantha Kincaid mystery, "Missing Justice," in spring 2004.
Praise For Judgment Calls…
"Alafair Burke has been on the front line in the courtroom and the streets, and brings her world alive in this exciting first novel." -Linda Fairstein

"Captivating. Alafair Burke is a wonderful writer, with the kind of style and confidence I most admire. I'm a big fan and look forward to the next novel in the series." -Sue Grafton

"Judgment Calls expertly shows that the most gripping drama is not found in the courtroom but in the places where choices get made, in the shadows cast by politics and corruption and human desires. Burke comes out of the gate with a first novel that proves she's got what it takes and will be sticking around." -Michael Connelly

"A terrific debut; very different from her famous father's work, but the storytelling DNA is all there, for sure." -Lee Child

"First-rate, suspenseful entertainment ...we'll be hearing more from tough, tart, sexy, high-minded Samantha Kincaid." -Washington Post

"Burke's earnest, fast-paced debut introduces a sharp new crime series revolving around Deputy DA Samantha 'Sam' Kincaid, a hip, 30-ish lawyer working in Portland's Drug and Vice Division. As a former DA herself, and now a teacher of criminal law, Burke brings a hyper-reality-TV quality to the text...This is a solid first effort from Burke, daughter of another 'crime fighter writer,' James Lee Burke." -Publishers Weekly

"Burke blends courtroom drama and criminal investigation with surprising aplomb, and she uses her Northwest setting to good advantage . . . This promising debut augurs well for a successful series." -Booklist

"If you love "Law and Order," you'll love Judgment Calls." - New Orleans Times-Picayune

"A grabber of a first novel." -Houston Chronicle

"Burke writes with both a clarity and a self-assuredness that belies her first-novelist status. The plot lines are tightly woven, and she adroitly ties things together in the end. This is the first in what should be a popular series." -Library Journal

"Alafair Burke is the real deal...Judgment Calls is a fine work, introducing what I hope will be a long-running series about the trials and tribulations of Samantha Kincaid...with Judgment Calls, Alafair Burke has arrived on the crime fiction scene in dramatic fashion...in a year during which there have already been many worthy debut novels to choose from, Alafair Burke's entry must be considered one of the top choices. Believe the hype-she's going to go very far."
-January Magazine

"Alafair Burke is, without question, a new writer to watch. Judgment Calls is a remarkable debut -a skillfully told tale with memorable characters and plot twists that will keep readers involved from the first page to the satisfying end. Take this one home with you-you'll enjoy it, and not many years from now, you'll be able to tell your friends that you knew she'd be a star when you read her first book." -Jan Burke

"It's no mystery why Alafair Burke's first novel, Judgment Calls, is already getting rave reviews...Burke demonstrates a natural-born propensity for suspense." -Phoenix New Times

"An engrossing novel that compares to the best of the genre." -Rocky Mountain News

"Author Burke is a splendid guide through its satisfyingly twisty plot." -The Seattle Times

"Fast-paced, well-plotted debut."-Raleigh News-Observer

"[Burke] has developed her own unique style of storytelling that is both fresh and wholly original. Judgment Calls is an exciting first novel and the perfect summer book to send shivers of suspense down the reader's spine." -Tucson Citizen

"It's her meticulous approach to nailing the criminals in the courtroom that gives Judgment Calls its principal appeal... As a female sleuth figure, Kincaid seems standard issue...but she and the book get into fresh territory when she applies her mind to her case and the courtroom. It's the attention to the minutiae of trial tactics that illuminates Kincaid's character and gives distinction to the novel." -The Toronto Star

"Alafair Burke has made an excellent start...we'll be watching for the return of Samantha Kincaid." -Toronto Globe and Mail

"Burke comes out of the gate flying...this has all the makings of a successful series, and we're looking forward to the next." - New Mystery Reader

"An accomplished and thrilling tale of her own...she writes in her own style, at her own pace, and the result is an engrossing novel that compares to the best of the genre." -Rocky Mountain News

"Burke definitely stands on her own merits as she delivers a debut that immediately springs to life...tightly plotted, Judgment Calls is a personal story wrapped around a realistic, likeable heroine...[It] would be an engrossing read no matter whose name was on the cover."
-South Florida Sun Sentinel
Advertisement