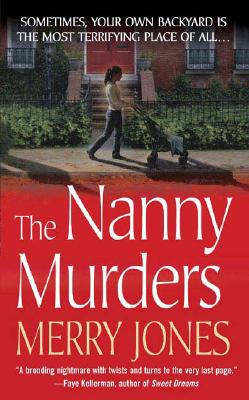 The Nanny Murders (Mass Market Paperback)
St. Martin's Paperbacks, 9780312998622, 352pp.
Publication Date: August 1, 2006
* Individual store prices may vary.
or
Not Currently Available for Direct Purchase
Description
SHE NEVER REALIZED JUST HOW PERFECT…
Single parenthood is challenging enough for Zoe Hayes, raising a young daughter in Queen Village, a Philadelphia suburb whose homes--like its residents--have seen better days. Then comes the blustery afternoon when little Molly makes a shocking discovery while playing outdoors: a dismembered finger.

HER IMPERFECT LIFE REALLY WAS…
What Zoe longs to believe is a gruesome fluke quickly takes on unsettling significance. One by one, young nannies are vanishing from the neighborhood, falling victim to a shadowy killer. Uneasily drawn into the chilling case--and an unexpected relationship--by enigmatic Detective Nick Stiles, Zoe assumes she and Molly are safe. But then terror strikes close to home.

UNTIL SHE FOUND IT IN JEOPARDY…
Now, Zoe must accept that nobody in Queen Village is protected. A bloodthirsty predator lurks nearby, perhaps concealed behind a passing stranger's friendly smile, a longtime neighbor's front door--or, as Zoe fears most, perhaps even nearer than that...

"Absolutely fantastic."
--Midwest Book Review

"A page-turning success…hard to put down."
--Dallas Morning News
About the Author
MERRY JONES is the author of eight books, including the humorous bestseller "I Love Him, But "and the nonfiction "Birthmothers: Women Who Have Relinquished Babies for Adoption Tell Their Stories." She lives outside of Philadelphia with her husband and two daughters. This is her first novel. "
Praise For The Nanny Murders…
"Fast-paced, fun first mystery. Jones serves up grim details, building suspense slowly at first, then with an accelerating pace that will leave readers breathless for the nuanced finale."--Publishers Weekly

"Absolutely fantastic, a novel with so many unexpected twists and turns that readers will feel like they are on a fast merry-go-round. This is a character-driven who-done-it with plenty of action...The Nanny Murders will appeal to a wide range of readers."--The Midwest Book Review

"Ms. Jones' first novel is a page-turning success. Her characters are believable, multifaceted and charming. It's hard to put down."--Dallas Morning News

"A fast-paced novel that has the reader hooked from chapter one."--The Book Review Cafe

"Brilliant. Chilling. Riveting."--Carolyn Hart, author of the Death on Demand series

"Wow. What a zinger of a mystery! Zoe Hayes, like the inner-city block she lives on, is in perpetual, chaotic transition: a 41 year-old single mom intent on raising an adopted daughter, connecting with friends, and making a life that does not include nannynapping and murder. Zoe is smart, tough, and tender, the mystery is taut, the settings vivid, the characters authentic. This may be Merry Jones's first novel, but she is already an accomplished writer."--Susin Wittig Albert, best-selling author of the China Bayles mysteries

"The Nanny Murders is a fine debut, fast-paced and full of heart. Merry Jones maintains a grip on the reader from the first page and doesn't let up.--Robert Ferrigno, author of The Wake-Up

"The Nanny Murders, Merry Jones' superb debut novel, will remain in the readers' memory like the somber notes of a distant melody. Brilliant. Chilling. Riveting." --Carolyn Hart, author of the Death on Demand series

"Merry Jones has created her own new brand of riveting suspense in this page-turning series debut."
-Karen Harper, author of The Falls

"The Nanny Murders delights, with snappy writing and an even snappier heroine. Merry Jones gives us Zoe Hayes, a brave, witty single mom who springs to action to protect her daughter, her friends, her neighborhood.."--Camille Minichino, author of the Gloria Lamerino mysteries
Advertisement