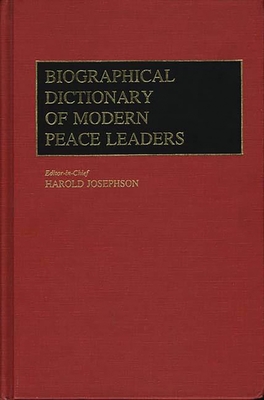 Biographical Dictionary of Modern Peace Leaders (Hardcover)
Greenwood, 9780313225659, 1133pp.
Publication Date: October 24, 1985
* Individual store prices may vary.
Description
This important reference tool surveys the multifaceted field of peace activism from 1800 to 1980. The dictionary defines the parameters of peace advocacy, surveys the different approaches taken in antiwar efforts, and provides information on many individuals who have either contributed to organized peace efforts or who have questioned war and organized violence. More than 250 authors from 15 nations have written 750 biographical entries about public advocates of peace; antiwar activists; leaders in organizations devoted to world peace; those who have worked to prevent armed conflicts; and writers, artists, and many others who have played major roles in the cause of peace. Although many of the subjects come from the United States and Europe, important subjects from Canada, Latin America, Africa, East Asia, and South Asia are also represented.
Besides providing basic biographical information, each entry concentrates on the subject's work, ideas, and activity as a peace leader and also contains a short bibliography of works about the subject, works by the subject, and manuscript materials if available. Carefully indexed and cross-referenced, the volume contains an introductory overview of nineteenth- and twentieth-century peace efforts, gives a selective chronology of peace movements, and provides an appendix listing the peace leaders by country. No other volume provides such a comprehensive survey of peace leaders throughout the world as this one. The Biographical Dictionary of Modern Peace Leaders will undoubtedly prove to be an invaluable research and reference tool for scholars and students of international relations, international law, and political philosophy.
About the Author
HAROLD JOSEPHSON is Professor of History and Director of the Center for International Studies at the University of North Carolina at Charlotte. His earlier works include James T. Shotwell and the Rise of Internationalism in America and articles in Diplomatic History, The Historian, and American Heritage.