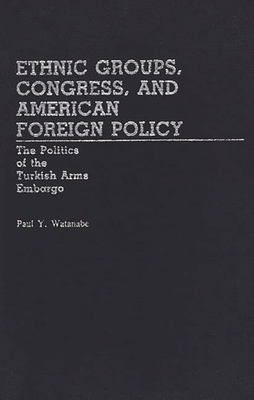 Ethnic Groups, Congress, and American Foreign Policy (Hardcover)
The Politics of the Turkish Arms Embargo (Contributions in Political Science)
Praeger Publishers, 9780313243301, 228pp.
Publication Date: November 1, 1984
* Individual store prices may vary.
Description
The attempted Greek takeover of Cyprus, Turkey's military invasion and occupation of that country, and the Turkish arms embargo that followed during the summer of 1974 sparked a struggle over the direction of American foreign policy. Paul Y. Watanabe explores the American foreign policymaking process in general and the impact ethnic group activism can have on foreign policy formulation in particular in his two-part study Ethnic Groups, Congress, and American Foreign Policy. In Part 1, he focuses on the rise of ethnic consciousness and activism, organizational behavior and interest group politics, lobbying, congressional-executive relations, the foreign policymaking process, and national security policy. Part 2 deals with a specific example of ethnic group activity in the foreign policymaking arena--Greek American and congressional attempts to ban further military shipments to Turkey. Watanabe concludes that ethnic groups can and do make significant contributions to the formulation of foreign policy by affecting the perceptions and actions of officials in Congress and the executive branch.
About the Author
tanabe /f Paul /i Y.