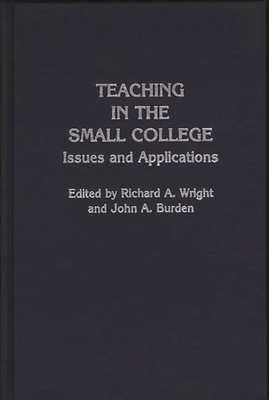 Teaching in the Small College (Hardcover)
Issues and Applications (Reference Sources for the Social Sciences and Humanities #17)
Praeger, 9780313246623, 198pp.
Publication Date: April 22, 1986
* Individual store prices may vary.
Description
This new study, written by a distinguished group of small college faculty and consultants, provides a contemporary portrait of small colleges--the educational advantages they offer, the problems they face, and innovative solutions now being developed. The authors discuss the benefits of education in a small college setting, including a tightly knit community of learning, a larger proportion of faculty dedicated to teaching, more personal interaction between faculty and students, a greater degree of student participation in all areas, and more emphasis on the moral/ethical implications of education. The teaching-versus-research debate and its implications for the small college are considered from the perspectives of institutional visibility, enrollments, funding, and educational values. The problems faced by small college faculty, such as teaching in a small department and the strain of fulfilling multiple and often conflicting roles, are thoroughly explored. Chapters designed to help the college teacher on the job offer suggestions on computer planning in the small college, coping with teaching courses outside one's areas of expertise, fitting in research despite heavy teaching loads, and teaching in areas such as physical education, history, philosophy, and liberal arts in general. A case study of a cooperative department established by several colleges and a discussion of the problems of limited library collections present practical information on new approaches to enhancing an institution's effectiveness.
About the Author
ight /f Richard /i A. /r ed. den /f John /i A. /r ed.