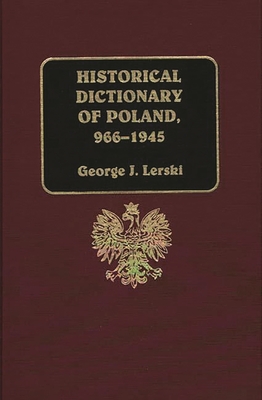 Historical Dictionary of Poland, 966-1945
Hardcover

* Individual store prices may vary.
Description
The first authoritative, comprehensive historical dictionary of Poland in English, this volume includes over 2,000 entries on people, events, places, and terms important to Poland's history from 966 to 1945. Entries include English and Polish language bibliographic sources. The student of Polish history seeking specific information on a person or event in medieval times, the troubled era leading to the late 18th century partitions of Poland, and the Polish nationalist struggles before 1919, reborn Poland in the interwar years, or the trauma of World War II will be amply rewarded by the accurate, concise information provided in this unique historical dictionary.
Each of the alphabetically arranged entries is followed by pertinent bibliographic sources in both English and Polish languages. A list of abbreviations, a note on the Polish alphabet, and a series of historical maps precede the entries. Helpful cross-references are provided throughout the text and in the index. A general bibliography precedes the index. After five years of work, George Lerski completed the original manuscript in 1992, shortly before his untimely death. The special editing subsequently undertaken preparatory to publication has remained faithful to the original work, its concept, organization, and purpose.
Greenwood Press, 9780313260070, 784pp.
Publication Date: January 19, 1996
About the Author
GEORGE J. LERSKI, who died in 1992, was Professor of European History at the University of San Francisco and was the author of several books, including Poland's Secret Envoy, `1939-1945 (1988) and Jewish-Polish Coexistence, 1772-1939: A Topical Bibliography (Greenwood, 1986). An active member of the Polish Resistance, he was a cofounder of the Polish Freedom Movement Independence and Democracy, and in 1993 was posthumously bestowed the Polonia Restituta with Commander's Cross and Star, one of Poland's highest honors.