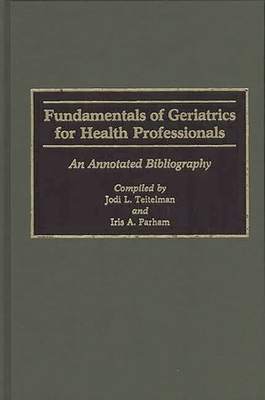 Fundamentals of Geriatrics for Health Professionals (Hardcover)
An Annotated Bibliography (Bibliographies and Indexes in Gerontology)
Greenwood, 9780313262258, 255pp.
Publication Date: January 24, 1990
* Individual store prices may vary.
Description
There is no doubt that the need for a multidisciplinary cadre of informed and skilled health professionals in geriatrics is growing as the population ages. This book was developed as a response to that need and is designed to assist health care professionals in locating some of the best materials in geriatrics available in the various disciplines. The annotations found in this volume are written clearly and concisely so that the reader can quickly grasp the essence of each reference.
The book is organized into two sections, the first of which identifies resources for specific health care disciplines, and the second focuses on resources in health care issues that cut across all disciplines. Specifically, Section I (Geriatrics in the Health Care Disciplines) provides annotations for most major health care disciplines. Section II (Special Issues in Geriatric Health Care) includes ethnic and minority health issues in aging, geriatric care and older women, medical ethics in geriatrics, and new reimbursement systems for medical care for the elderly. Each chapter has been compiled by experienced geriatric professionals who are trained and actively practice in the discipline they cover. This book will be a useful tool for health practitioners, educators, and researchers involved in promoting geriatric education and quality clinical care of older adults.
About the Author
JODI L. TEITELMAN is an Assistant Professor in the Department of Gerontology and Training Director of the Geriatric Education Center at Virginia Commonwealth University. She is the coauthor of two other books on gerontology. Her current areas of interest are in geriatric education, health psychology in geriatric care, and sexuality in later life.IRIS A. PARHAM is Chairperson and Associate Professor of Gerontology, holds joint appointments in Geriatric Medicine and Psychology and is Executive Director of the Geriatric Education Center at Virginia Commonwealth University. She is the coauthor of several volumes on gerontology.