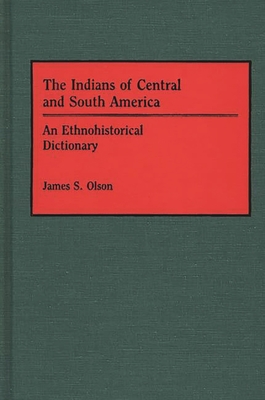 The Indians of Central and South America (Hardcover)
An Ethnohistorical Dictionary (Studies; 6)
Greenwood, 9780313263873, 528pp.
Publication Date: June 17, 1991
* Individual store prices may vary.
Description
At a juncture in history when much interest and attention is focused on Central and South American political, ecological, social, and environmental concerns, this dictionary fills a major gap in reference materials relating to Amerindian tribes. This one-volume reference collects important information about the current status of the indigenous peoples of Central and South America and offers a chronology of the conquest of the Amerindian tribes; a list of tribes by country; and an extensive bibliography of surviving American Indian groups. Historical as well as contemporary descriptions of approximately 500 existing tribes or groups of people are provided along with several bibliographic citations at the conclusion of each entry. The focus of the volume is on those Indian groups that still maintain a sense of tribal identity.
For the vast majority of his entries, James S. Olson draws material from the Smithsonian Institution's seven-volume Handbook of South American Indians as well as other classic resources of a broad, general nature. Much attention is also focused on the complicated question of South American languages and on the definition of what constitutes an Indian. Olson's introduction cites dozens of valuable reference works relating to these topics. Following the introduction, this survey of surviving Amerindians is divided into sections that contain entries for each existing tribe or group; an appendix listing tribes by country; the Amerindian conquest chronology; and a bibliographical essay. This unique reference work should be an important item for most public, college, and university libraries. It will be welcomed by reference librarians, historians, anthropologists, and their students.
About the Author
JAMES S. OLSON is Professor of History, Sam Houston State University, Huntsville, Texas. His previously published books include Historical Dictionary of the Vietnam War, and Historical Dictionary of the New Deal (Greenwood Press, 1988 and 1985, respectively). His upcoming Historical Dictionary of European Imperialism will be published in March 1991 by Greenwood Press. Professor Olson is now working on a historical dictionary of the Spanish Empire.