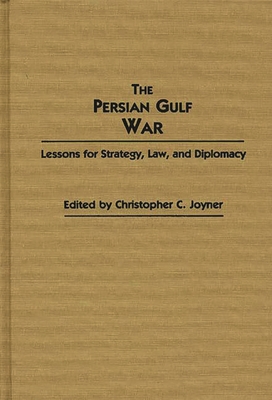 The Persian Gulf War (Hardcover)
Lessons for Strategy, Law, and Diplomacy (Contributions in Military Studies #99)
Greenwood Press, 9780313267109, 272pp.
Publication Date: August 21, 1990
* Individual store prices may vary.
Description
Although the stability of the Persian Gulf region has been of rising importance since World War II, it was during the 1980s, when the Iran-Iraq War threatened to upset the balance of power in the region, that its importance became even more magnified. This collection of essays surveys the current state of that region, placing into clearer perspective the political, security, and diplomatic dimensions of the recently ended war. By reevaluating the political landscape of the Gulf, the book produces a gauge for better assessing those factors and forces that affected the conflict's outcome and that will continue to influence future political and security developments in the region.
The volume begins with an introduction by the editor that examines the geography of the Gulf and the primary geopolitical factors that influenced perceptions of the region during the war. The essays are then divided into two sections covering Strategic and Political Dimensions and Diplomatic and Legal Dimensions. Topics covered in the first section include the roots of the crisis, Soviet, Israeli and Arab Gulf states' interests in the conflict, U.S. policy in the region, and the role of U.S. military forces. Section two discusses the reflagging of Kuwaiti tankers, the United Nations' involvement, and the cease-fire negotiations. The book concludes with a selected bibliography and an index. This study will be an important resource for courses in political science, diplomacy, and Mid-East history, as well as a significant addition to both public and university libraries.
About the Author
CHRISTOPHER C. JOYNER is Associate Professor of Political Science at George Washington University. He has edited five volumes, most recently The Antartic Legal Regime (1988) and is completing a study on Antartica and the law of the sea.