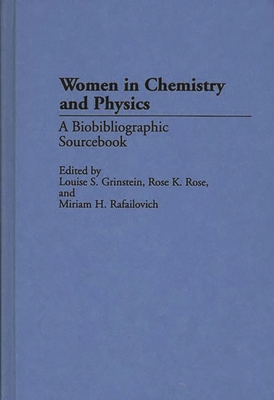 Women in Chemistry and Physics
A Biobibliographic Sourcebook
Hardcover

* Individual store prices may vary.
Description
Biographies of women scientists are few in number. This volume fills that gap in the literature. It includes extensive profiles, arranged alphabetically, of 75 women from different countries who have been influential in the development of chemistry and physics. Subjects were chosen on the basis of their advanced degrees, innovative research, influence in teaching, leadership in the profession, and scholarly publications. Each profile includes a biography, a career discussion, and a bibliography of works by and about the subject. Biographies provide personal information with special attention to influences on the subject's career. The career discussions indicate the significance of the subject's contributions in language accessible to the layperson. The work provides a valuable contribution to both women's studies and the history of chemistry and physics and should serve as an inspiration to young women seeking a career in the physical sciences.
Greenwood, 9780313273827, 736pp.
Publication Date: October 25, 1993
About the Author
LOUISE S. GRINSTEIN received a Ph.D. degree from Columbia University in Mathematics Education. She has worked in industry as a computer programmer and system analyst and is Professor of Mathematics and Computer Science at Kingsborough Community College of CUNY. She is the coeditor of Calculus: Readings from the Mathematics Teacher (1977), Women of Mathematics: A Biobibliographic Sourcebook (1987) and Mathematics Education in Secondary Schools and Two-Year Colleges: A Sourcebook (1988).ROSE K. ROSE, Professor of Physical Sciences at Kingsborough Community College of CUNY, received a Ph.D. degree in Chemistry from CUNY. She has been a contributing editor for six medical publications including Medical Tribune and Oncology News. Her areas of interest include chemical pharmacology medicinal chemistry, organic synthesis, chelates of palladium, liquid crystals, spectroscopy, stereoselective reactions, heterogeneous catalysis, and education in chemistry and physics, as well as women in science.MIRIAM H. RAFAILOVICH received her Ph.D. degree in Applied Nuclear Physics from SUNY at Stony Brook. On leave from Queens College of CUNY, she is Professor in the Department of Materials Science at SUNY at Stony Brook as well as guest scientist at Brookhaven National Laboratory. Her research interests are in polymer physics.