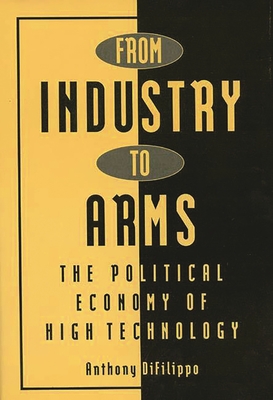 From Industry to Arms (Hardcover)
The Political Economy of High Technology (Discographies #114)
Praeger, 9780313274152, 216pp.
Publication Date: December 7, 1990
* Individual store prices may vary.
Description
The importance of technology in our day to day lives is something that few people would deny. At home and in the office, in business and in politics, the effects of technology are pervasive. In this important new study, Anthony DiFilippo examines one specific aspect of this issue: the forces of political economy that direct the course of industrial technology. The book thoroughly analyzes the topic both empirically and comparatively and assesses the impact the political economy of technology has on the nation's standard of living, its quality of life, and its long-term prospects for economic and democratic advancement. In addition, DiFilippo concludes with a practical and rational alternative to confront many of the economic problems described.
The book's primary thesis states that recent U.S. industrial policy, which has emphasized continuous advancement of military capabilities, has absorbed large amounts of capital and technical personnel. At the same time, foreign nations have improved their technological capacities through comprehensive, civilian-supported industrial policies. To improve U.S. competitiveness, manufacturing, productivity, and, ultimately, the standard of living, DiFilippo shows that technological resources must be shifted to the civilian sector. He examines a wide range of issues surrounding the topic, from the demise of the post-industrial economy and the conventional explanations for competitive decline to the resource drain of advanced warfare and the industrial policies of Japan, West Germany, and France. An extensive set of charts and tables support DiFilippo's argument and point out some of the serious economic problems the U.S. approach to high technology has caused. A bibliography of selected works is also provided. With its pertinence to current economic, political, and technological issues, From Industry to Arms will be a valuable resource for courses in government and business, political economy, policy analysis, and science and technology. Public and academic libraries will also find it to be an important and timely addition to their collections.
About the Author
ANTHONY DIFILIPPO is Associate Professor of Sociology at Lincoln University in Pennsylvania. He is the author of numerous articles on political economy, as well as the book Military Spending and Industrial Decline: A Study of the American Machine Tool Industry (Greenwood, 1986).