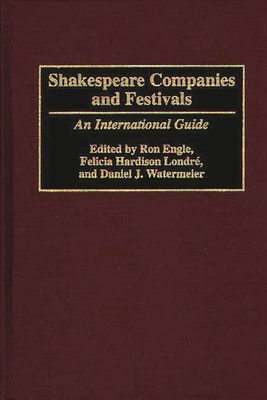 Shakespeare Companies and Festivals
An International Guide
Hardcover

* Individual store prices may vary.
Description
Though first performed some 400 years ago, the plays of William Shakespeare still continue to capture the popular imagination and are produced by numerous companies around the world. This reference describes over 140 Shakespeare companies and festivals worldwide. Each company or festival is profiled in a separate entry. Entries are grouped in chapters devoted to particular states or countries, and provide historical, organizational, demographic, and production information.
Each profile describes the history of the festival or company; its organization, including staffing and budgeting; its physical facilities and performance site; the demographics of its audience and the community where it is located; and the company's or festival's approach to producing Shakespeare's plays. Each entry begins with a headnote providing essential information, such as the name, address, box office phone number, length of season, principal staff members, facilities, annual attendance, and budget. Each closes with a chronological listing of all Shakespeare's plays produced by the organization, and resources for further information.
Greenwood, 9780313274343, 624pp.
Publication Date: April 10, 1995
About the Author
RON ENGLE is the Chester Fitz Distinguished Professor of Theatre Arts at the University of North Dakota at Grand Forks. He is the founding editor of Theatre History Studies, and has also written books and numerous articles on Shakespeare and theatre.FELICIA HARDISON LONDRE is Curators' Professor of Theatre at the University of Missouri-Kansas City. She was the founding secretary of the Shakespeare Theatre Association of America, and has published and lectured extensively on Shakespeare.DANIEL J. WATERMEIER is Professor of Theatre and Drama at the University of Toledo. He was a coeditor of Shakespeare Around the Globe (Greenwood Press, 1985), as well as a Guggenheim Fellow.