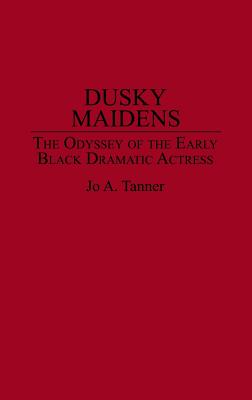 Dusky Maidens (Hardcover)
The Odyssey of the Early Black Dramatic Actress (Contributions in Afro-American & African Studies)
Praeger, 9780313277177, 192pp.
Publication Date: December 10, 1992
* Individual store prices may vary.
Description
Few theatre aficionados, even theatre historians, could come up with the names of many actresses known for serious dramatic roles before the 1950s brought Ruby Dee and other stars to the fore. The road to the professional dramatic stage was not easily traveled by Black actresses, but some did make the transition from minstrels and musicals to drama beginning at the turn of the century. For the most part even those who achieved significant critical acclaim were omitted from the annals of American theatre history.
In this first study specifically on early Black actresses, Jo Tanner traces the evolution and progress of such stage pioneers, focusing especially on Anita Bush, Laura Bowman, and Abbie Mitchell, who achieved success on their own in the first three decades of the century and helped train a new generation of Black actresses while also serving as role models. In the process, Tanner uncovers racial attitudes and preconceptions of the period that forced Black actresses primarily into mammy roles. It took considerable fortitude as well as talent for these women to pave the way others would follow. Occupying a site at the confluence of theatre history, women's studies, and African American studies, this book will interest scholars and students in all these areas and will have to be taken into account by future writers chronicling American theatre history.
About the Author
JO A. TANNER is Assistant Professor in the Drama, Theatre, and Dance Department at Queens College, City University of New York. She teaches acting, black drama, and theatre history and criticism courses. She contributed an essay on Vinnette Carroll for Notable Women in the American Theatre (Greenwood Press, 1989) and is working on a directory of Black women on the American stage.