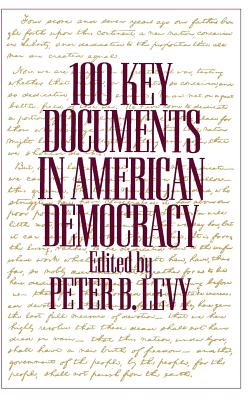 100 Key Documents in American Democracy
Hardcover

* Individual store prices may vary.
Other Editions of This Title:
Paperback (3/1/1999)
Description
This documentary collection traces the development and meaning of democracy in America from colonial times to the present. It includes classic writings and speeches such as Lincoln's Gettysburg Address as well as lesser-known gems such as Fannie Lou Hamer's testimony before the Credentials Committee of the Democratic Party convention and Cesar Chavez's Letter from Delano. Written or spoken by Presidents and ex-slaves, political theorists and poets, labor leaders and songwriters, Supreme Court justices and suffragettes, liberals and conservatives, these documents reflect the diversity and breadth of the American experience and the ongoing struggle to achieve the ideals on which the nation was founded. Forty-seven illustrations complement the text.
The collection can be read as a succinct overview of American history and used as a reference or source book. The documents have been selected with the advice of a number of America's leading scholars and teachers. Arranged by historical era, the collection begins with Powhatan's Letter to John Smith and closes with Jesse Jackson's Common Ground and Common Sense. Each document is organized with a fact box, up-to-date commentary based on recent scholarship, and list of suggested readings. Nearly a fifth of the documents represent recent events in American history; women and minorities are well represented. Shorter documents are full text; longer ones have been judiciously edited by Professor Levy for the general reader. An appendix contains the full text of the Declaration of Independence and the Constitution of the United States (including all the amendments). Markets for this work are school, public, and college and university libraries, and college courses on American history, American government and politics, and American political theory.
Greenwood, 9780313284243, 536pp.
Publication Date: November 19, 1993
About the Author
PETER B. LEVY is Assistant Professor in the Department of History and Political Science at York College. He is the editor of Let Freedom Ring (Praeger, 1992) and America in the Sixties (Greenwood, 1998).