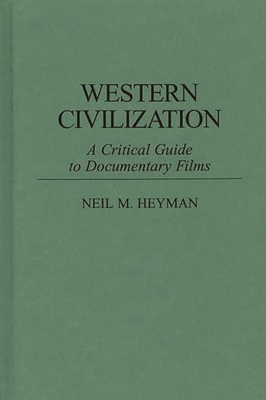 Western Civilization
A Critical Guide to Documentary Films
Hardcover

* Individual store prices may vary.
Description
Offering critical reviews of over 170 widely available documentaries, this book provides a unique guide for instructors teaching the History of Western Civilization and specialized European history courses. Coverage is from ancient times to the post World War II era. Selecting films that instructors would be likely to consider using, Heyman provides lengthy critical evaluations. Each evaluation includes a brief summary, a letter grade from A to D, a discussion of the film's technique, a consideration of its organization, and in most instances, a specific statement of its strong and weak points.
Many evaluations include specific indications of how a film can be integrated into a course on Western Civilization. Information is also provided on length, release dates, and where films can be obtained. Arranged chronologically, chapters cover films on major time periods or topics such as the Renaissance or Fascism and Nazism, enabling instructors to choose films that will illustrate specific teaching topics in European history.
Greenwood, 9780313284380, 264pp.
Publication Date: November 20, 1995
About the Author
NEIL M. HEYMAN is professor of history at San Diego State University. His previous books include the Biographical Dictionary of World War I (Greenwood 1982), and Russian History (1993).