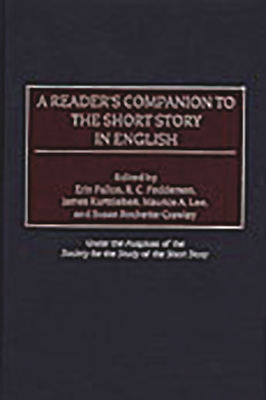 A Reader's Companion to the Short Story in English (Hardcover)
Greenwood, 9780313291043, 464pp.
Publication Date: December 30, 2000
Other Editions of This Title:
Hardcover (3/1/2001)
* Individual store prices may vary.
Description
While the short story has existed in various forms for centuries, it has particularly flourished during the last hundred years, and especially in recent decades. Though many outstanding novels have been written in the 20th century, most of these writers have also published short fiction. And in many cases, their short stories exhibit a greater degree of coherence and integrity than their longer works. The rise of creative writing programs in the 1960s helped fuel the growth of the short story and brought academic attention to it. So, too, the emergence of multiculturalism encouraged authors of diverse backgrounds to write about their cultures. This reference is a guide to the contemporary English-language short story.
Included are alphabetically arranged entries for roughly 50 English-language short story writers from around the world, such as Chinua Achebe, John Barth, Jamaica Kincaid, Salman Rushdie, and Amy Tan. More than half the American writers profiled are from historically marginalized groups, such as Jewish-Americans, African-Americans, and Asian-Americans. Most of these authors have been active since 1960, and they reflect a wide range of experiences and perspectives in their works. Each entry is written by an expert contributor and includes biographical material, a brief review of existing criticism, a lengthier analysis of specific works, and a selected bibliography of primary and secondary sources. The volume begins with a detailed introduction to the short story genre and concludes with an annotated bibliography of major works on short story theory.
About the Author
ERIN FALLON is a graduate student in English at the University of New Orleans. She is Assistant Coordinator of the International Conference on the Short Story in English, Recording Secretary for the Society for the Study of the Short Story, and Assistant Editor of Short Story.R.C. FEDDERSEN is a Doctoral Candidate and Teaching Associate in the Department of English at Oklahoma State University. He is one of the editors of The Tales We Tell: Perspectives on the Short Story (Greenwood, 1998).JAMES KURTZLEBEN is currently a web designer for Inlet, Inc. He was the Assistant Editor of Short Story and Literary Magazine Review and Managing Editor of the Journal of Caribbean Literatures.MAURICE A. LEE is Professor of English and Dean of the College of Liberal Arts at the University of Central Arkansas. He is founder and Editor of the Journal of Caribbean Literature and Director of a biannual international conference on the short story, now in its twelfth year.SUSAN ROCHETTE-CRAWLEY is Assistant Professor of English and Coordinator of the Creative Writing Program at the University of Northern Iowa.
or
Not Currently Available for Direct Purchase