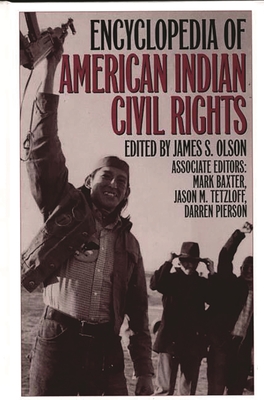 Encyclopedia of American Indian Civil Rights (Greenwood Professional Guides in)
Hardcover

* Individual store prices may vary.
Description
Individual demands for equality and civil rights are central themes in U.S. history and American Indian people are no exception. They have had to deal with white racism and its expression in local and national political institutions while trying to define the rights of individual Indians vis- -vis their own tribal governments. The struggle has made their civil rights movement unique. This encyclopedia, designed to meet the curriculum needs of high school and college students, provides the most comprehensive, up-to-date coverage of American Indian civil rights issues. More than 600 entries cover a variety of perspectives, issues, individuals, incidents, and court cases central to an understanding of the history of civil rights among American Indian peoples. The issue is a complicated one, expanding over a period of more than a century.
The history of American Indian civil rights can be traced not only in the courts and the federal legislation, but on the battlefield where a number of civil rights protests have been fought. This encyclopedia clarifies the complicated history of individual rights, water rights, land rights, and other issues in American Indian civil rights. It is thoroughly cross-referenced for ease of use in tracing any particular issue or incident. Each entry is followed by a list of works for further reading on the topic. An appendix of entries on landmark court cases is organized by issue. A selection of photos complements the text. This work is a one-stop source for up-to-date information on all aspects of American Indian civil rights and is essential for high school, public, and university libraries.
Greenwood, 9780313293382, 448pp.
Publication Date: June 30, 1997
About the Author
James S. Olson is distinguished professor of history at Sam Houston State University in Huntsville, Texas. He is the author and editor of more than twenty-five books on U.S. and world history, including Historical Dictionary of the 1960s (1997), Historical Dictionary of the British Empire (1996), The Peoples of Africa: An Ethnohistorical Dictionary (1996), An Ethnohistorical Dictionary of Russian and Soviet Empires (1994), The Vietnam War (1993), all published by Greenwood, and John Wayne American (1995).Mark Baxter is a PhD candidate in the Department of History at the University of Colorado at Boulder.Jason M. Tetzloff is assistant professor of history at Purdue University, where he specializes in the history of the American west.Darren Pierson is a PhD candidate in the Department of History at Texas A&M University at College Station.