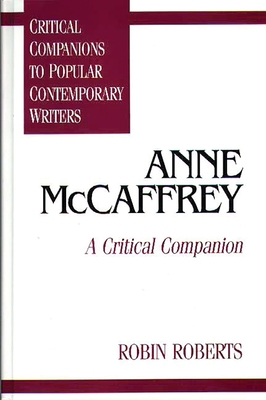 Anne McCaffrey
A Critical Companion (Critical Companions to Popular Contemporary Writers)
Hardcover

* Individual store prices may vary.
Other Editions of This Title:
Hardcover (8/15/2007)
Description
The first woman to win the Hugo award (given annually by the World Science Fiction convention) and the Nebula award (given annually by the Science Fiction Writers of America), Anne McCaffrey has invented many worlds of science fiction that have made her work enormously popular. Her series The Dragonriders of Pern has become one of the most widely read series in science fiction history. This is the first complete critical study of her work. It examines all of her novels to date, both individual and series, and reveals why she deserves the critical recognition and popularity her works have received. Roberts explores the range and complexity of her novels and the recurrent themes that have attracted so many young adults to her work: the heroine as outsider, the need for tolerance and the acceptance of difference, the importance of living harmoniously with nature, and the value of art and literature.
McCaffrey's contributions to science fiction are many, including the creation of scientifically engineered dragons, brain ships, and scientifically explained mental powers such as telepathy and telekinesis. Roberts shows how McCaffrey's extrapolation of science raises social issues and causes us to think about the future. Each chapter in this study deals with an individual novel or series and features sections on genre, plot, theme, and character development. In addition, Roberts defines and applies a variety of theoretical approaches to the works--feminist, Marxist, environmental, psychoanalytic, and mythic--to widen the reader's perspective on the works. The study also features a chapter on McCaffrey's life, including an interview with the author, and a chapter defining the science fiction genre and McCaffrey's place in it. A complete bibliography of McCaffrey's fiction and bibliography of reviews and criticism complete the work. Because of her great popularity among teenagers and adults, this study is a necessary purchase by secondary schools and public libraries.
Greenwood, 9780313294501, 208pp.
Publication Date: May 28, 1996
About the Author
ROBIN ROBERTS is Associate Professor of English and Women's and Gender Studies at Louisiana State University. She is the author of A New Species: Gender and Science in Science Fiction (1993), Ladies First: Feminist Music Videos (forthcoming), and numerous articles on science fiction.