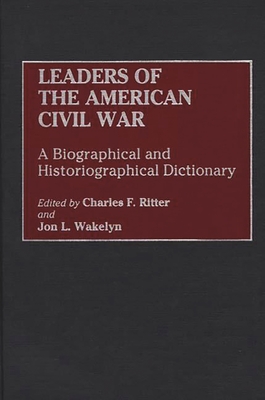 Leaders of the American Civil War
A Biographical and Historiographical Dictionary (And Criticism)
Hardcover

* Individual store prices may vary.
Other Editions of This Title:
Hardcover (11/1/1998)
Description
Covering both the great military leaders and the critical civilian leaders, this book provides an overview of their careers and a professional assessment of their accomplishments. Entries consider the leaders' character and prewar experiences, their contributions to the war effort, and the war's impact on the rest of their lives. The entries then look at how history has assessed these leaders, thus putting their longtime reputations on the line. The result is a thorough revision of some leaders' careers, a call for further study of others, and a reaffirmation of the accomplishments of the greatest leaders.
Analyzing the leaders historiographically, the work shows how the leaders wanted to be remembered, how postwar memorists and biographers saw them, the verdict of early historians, and how the best modern historians have assessed their contributions. By including a variety of leaders from both civilian and military roles, the book provides a better understanding of the total war, and by relating their lives to their times, it provides a better understanding of historical revisionism and of why history has been so interested in Civil War lives.
Greenwood Press, 9780313295607, 504pp.
Publication Date: November 30, 1998
About the Author
CHARLES F. RITTER is Professor and Chairperson of History at the College of Notre Dame in Maryland. He is coauthor, with Jon L. Wakelyn, of American Legislative Leaders, 1850-1910 (Greenwood, 1989).JON L. WAKELYN is Professor of History at Kent State University. He is the author of several books, including Biographical Dictionary of the Confederacy (Greenwood, 1977), Web of Southern Social Relations (1985), and Southern Pamphlets on Secession (1996).