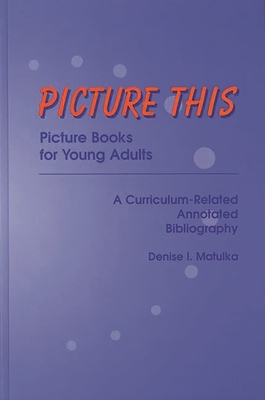 Picture This
Picture Books for Young Adults, A Curriculum-Related Annotated Bibliography (Crosscurrents in African Amer.Hist.; 1)
Hardcover

* Individual store prices may vary.
Description
Picture books for young adults can provide a unique introduction to curriculum-related topics that will capture student interest. This annotated bibliography of over 600 picture books for students in grades 8 through 12, is organized by content area and will enable teachers and library media specialists to select appropriate books for use with students. Picture books provide an extraordinary opportunity to combine illustration and thoroughly researched text to introduce topics in the arts, health, literature, mathematics, science, and social science content areas. They can be used together with companion titles or as springboards to stimulate student interest. No longer just for children, picture books have matured in the last decade to become a format for all ages. The recommended fiction and nonfiction titles in this resource have been carefully selected as appropriate for older readers because of their sophisticated content. Almost all have been published in the late 1980s through 1996.
For ease of use by the teacher or young adult librarian, the bibliography is arranged into six content areas: the arts, health, literature and language, mathematics, science and nature, and social studies and history. Within each content area entries are organized alphabetically by author. Each annotation includes the book's content, subject breakdown, artistic style and medium, suggested companion titles, and ideas for use in the classroom. Annotations are numbered for ease of use and indexed by subject, author, and illustrator. Appendixes include a glossary of terms used to describe picture books, a checklist to guide teachers and students when using picture books, and a list of professional sources that will assist teachers in exploring the picture book format. This easy-to-use guide is an indispensable resource for teachers and librarians seeking to motivate students and stimulate their interest.
Greenwood, 9780313301827, 296pp.
Publication Date: December 9, 1997
About the Author
DENISE I. MATULKA is a freelance writer who has dedicated her education and professional interests to the field of children's literature. She holds a degree in English and Children's Literature from the University of Nebraska and is a candidate for a Master of Library Science degree. She has worked for Reading Rainbow, the Emmy-award winning PBS television series for children, and is currently writing a novel and collection of short stories for children.