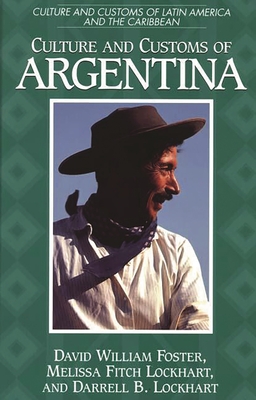 Culture and Customs of Argentina (Cultures and Customs of the World) (Hardcover)
Greenwood, 9780313303197, 200pp.
Publication Date: November 24, 1998
* Individual store prices may vary.
Description
Argentina, one of the most dynamic societies in Latin America, is known for its impressive level of cultural production. This examination of the social and cultural institutions of Argentine society contains a series of comprehensive and informative essays that focus on the most important forms of cultural production in terms of major works, major artists, and major venues.
Students and interested readers will discover what is unique about Argentina's culture and customs in this thorough and engaging overview. The authors describe the issues that have dominated Argentine society and place everything in its proper context by including a chronology of major historic events. This volume also contains chapters on Religion, Social Customs, Broadcasting and Print Media, Cinema, Literature, Performing Arts, and Art (including Sculpture, Photography, Architecture, Painting).
About the Author
DAVID WILLIAM FOSTER is Chair of the Department of Languages and Literatures and Regents' Professor of Spanish, Humanities, and Women's Studies at Arizona State University. He is the author of Latin American Writers on Gay and Lesbian Themes: A Bio-Critical Sourcebook (Greenwood, 1994).MELISSA FITCH LOCKHART is on the faculty at Arizona International College of the University of Arizona in Tucson. She has published several articles on gender and sexuality in Latin American theatre and is currently writing a book on Latin American women writers.DARRELL B. LOCKHART is an assistant professor of Spanish at the University of Nevada, Reno where he teaches Latin American literature, popular culture, and film. He is the editor of Latin American Jewish Writers: A Dictionary (1997), co-author of Culture and Customs of Argentina (Greenwood, 1998), and editor of Latin American Science Fiction Writers and Latin American Mystery Writers (both Greenwood, 2004).