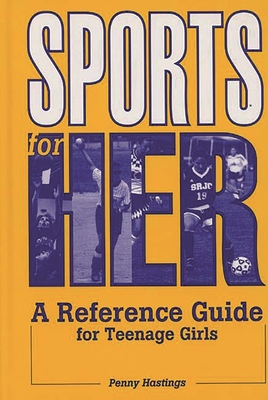 Sports for Her (Hardcover)
A Reference Guide for Teenage Girls
Greenwood, 9780313305511, 264pp.
Publication Date: November 30, 1999
* Individual store prices may vary.
Description
Today, one in every three high school girls plays sports, and the number of sports offered to these young women has increased dramatically in the past decade. This unique resource explores these sports from a girl's perspective, while examining sports issues as they pertain to young women. Individual chapters cover the most popular sports offered at the high school level, such as basketball, field hockey, and track, and provides practical advice on training and practicing techniques, trying out for the team, and organizing school teams. Other sports possibly less familiar, such as badminton and crew, are also explored, each in a chapter of its own, as are sports like football and baseball which are typically offered only to boys.
Students can find detailed information for each of the eight most popular sports at the high school level: basketball, field hockey, soccer, softball, swimming and diving, tennis, track and field, and volleyball. This information includes the history of the sport, rules, common injuries to the sport, similar sports to try, and advice from coaches about making the team. Young female students are encouraged to try other sports that may not be offered by their high school and to get high schools to sponsor teams where there are none, as well as to participate on boys' teams if a particular sport is not offered to girls. Advice is also provided on possible sports-related problems for girls, including overtraining, drug use, eating disorders, and abuse from coaches, as well as information about sports-related careers to provide a well-rounded, comprehensive guide for young female athletes.
About the Author
PENNY HASTINGS is a professional researcher, writer, and public relations consultant. She is the coauthor of How to Win a Sports Scholarship (1995).