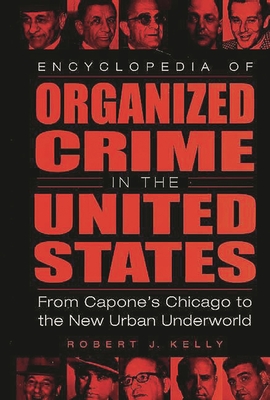 Encyclopedia of Organized Crime in the United States (Hardcover)
From Capone's Chicago to the New Urban Underworld
Greenwood, 9780313306532, 392pp.
Publication Date: April 30, 2000
* Individual store prices may vary.
Description
Typically, other reference works on organized crime in the United States focus primarily on the Mafia and La Cosa Nostra, and neglect the many new ethnic and racial criminal organizations that permeate American society today. This reference fills those gaps while providing systematic detailed coverage of traditional crime families, individuals, significant events, and terms. More than 250 entries provide in-depth information on major underworld figures, from Al Capone to John Gotti and Sammy the Bull Gravano, and key criminal events and milestones. In addition, Kelly, an expert on organized crime, provides in-depth coverage of African American organized crime, Chinese Triads and Tongs, the Colombian drug cartels' infiltration of the U.S., Dominican drug trafficking, ecocrime, Russian organized crime, Latin gangs and criminal groups, and Vietnamese American organized crime.
Significant events (such as the St. Valentine's Day Massacre) and historical milestones (such as the Apaplachian Meeting) are interwoven with contemporary trends and facts about the new underworlds emerging in American cities. Entries include data on the backgrounds of important and infamous criminals, their nicknames, organizational structure, their criminal careers, and colorful details about their lives. Also included are definitions of key phrases and terms, such as making your bones, and organization charts of traditional and new organized crime groups. Entries are placed in a social/historical context that clarifies their significance and enables the reader to appreciate the circumstances that shaped the criminal incidents and public response to them. This is the most comprehensive collection of current information on organized crime in the United States ever assembled in one volume and will be a valuable research tool for students and interested readers.
About the Author
ROBERT J. KELLY is Broeklundian Professor of Social Sciences at Brooklyn College and Professor of Criminal Justice and Sociology at the Graduate School, City University of New York./e He has served as a consultant to numerous government agencies concerning terrorism, organized crime, prison administration, and extremist politics. Kelly is author of Hate Crimes: The Politics of Global Polarization (1998), African-American Organized Crime: A Social History (1997), Handbook of Organized Crime in the United States (Greenwood, 1994), and The Upperworld and the Underworld (1999).