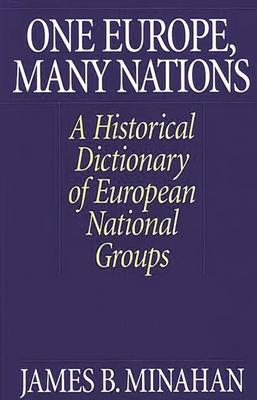 One Europe, Many Nations
A Historical Dictionary of European National Groups
Hardcover

* Individual store prices may vary.
Description
Dominating world politics since 1945, the Cold War created a fragile peace while suppressing national groups in the Cold War's most dangerous theater--Europe. Today, with the collapse of Communism, the European Continent is again overshadowed by the specter of radical nationalism, as it was at the beginning of the century. Focusing on the many possible conflicts that dot the European landscape, this book is the first to address the Europeans as distinct national groups, not as nation-states and national minorities. It is an essential guide to the national groups populating the so-called Old World-groups that continue to dominate world headlines and present the world community with some of its most intractable conflicts.
While other recent reference books on Europe approach the subject of nations and nationalism from the perspective of the European Union and the nation-state, this book addresses the post-Cold War nationalist resurgence by focusing on the most basic element of any nationalism--the nation. It includes entries on nearly 150 groups, surveying these groups from the earliest period of their national histories to the dawn of the 21st century. In short essays highlighting the political, social, economic, and historical evolution of peoples claiming a distinct identity in an increasingly integrated continent, the book provides both up-to-date information and historical background on the European national groups that are currently making the news and those that will produce future headlines.
Greenwood, 9780313309847, 800pp.
Publication Date: July 30, 2000
About the Author
JAMES B. MINAHAN is an independent researcher living in Barcelona, Spain. He is the author of Nations Without States: A Historical Dictionary of Contemporary National Movements (Greenwood, 1996), which was named an ALA/RASD 1996 Outstanding Reference Source, and Miniature Empires: A Historical Dictionary of the Newly Independent States (Greenwood, 1998).