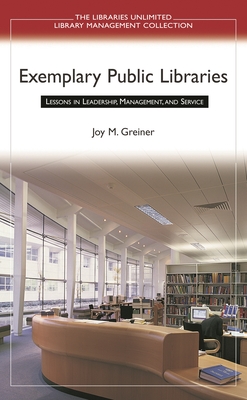 Exemplary Public Libraries
Lessons in Leadership, Management, and Service (Libraries Unlimited Library Management Collection)
Hardcover

* Individual store prices may vary.
Description
What does it take to have a great library? The right leader? A great team? A wonderful facility? The best services? How can you transform your library to better meet the demands of tomorrow? This author visited 10 exemplary public libraries in the United States and Great Britain to find answers to these questions. She interviewed directors and key staff, researched archives, and observed facilities, operations, and interactions. The results of her explorations are contained in this volume, providing readers with nuts and bolts information on public library management along with general insights into what libraries have been, are today, and can be in the future. Each chapter begins with background information on the library's location, community, and facilities; as well as its mission statement, history, and organization. Interviews (or, in some cases, summaries of interviews) with directors and key staff follow. Chapters close with the author's observations about distinguishing features of the library; and those comments are summarized in a final chapter, The Public Library: A Tradition of Service, A Future of Performance. A selected bibliography, historical timelines, and black and white photos of each of the libraries help make this a unique and treasured resource for library administrators and staff, as well as faculty and students in courses on public libraries, library history, management, and facilities. It will be of interest to anyone interested in library history, library management, and the future of public libraries.
Libraries Unlimited, 9780313310690, 248pp.
Publication Date: August 30, 2004
About the Author
JOY M. GREINER is Associate Professor, School of Library and Information Science, University of Southern Mississippi. She is a former library administrato and consultant, and the auhtor of Research Issues in Public Librarianship: Trends for the Future(Greenwood press, 1994).