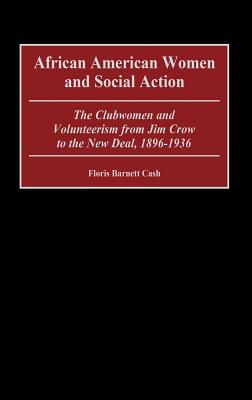 African American Women and Social Action
The Clubwomen and Volunteerism from Jim Crow to the New Deal, 1896-1936 (Contributions in Women's Studies #188)
Hardcover

* Individual store prices may vary.
Description
Black women have a long history of collective struggle to create welfare organizations, schools, orphanages, and health centers for African Americans. Their clubs evolved for many reasons, including self-education, community improvement, and to raise the standards of black women. Many of these women, educated beyond their race and gender and with a commitment to their communities, turned to volunteer work. This book examines the volunteer efforts of black clubwomen in the National Association of Colored Women from 1896 to 1936, and explores how their work influenced the impact and direction of social services in black communities, especially during the Progressive era. The innovative role black clubwomen played at this time aided the African American community in both social change and community survival.
A variety of factors motivated black women to organize club associations, including the urgent social needs of poor African Americans who were excluded from all public relief, an increasing number of educated middle-class black women, and the growth of urban black communities due to migration from the South. The pioneer clubwomen of this time period established successful social service programs and agencies, and laid the foundation for opportunities and assistance in education, political and religious leadership, and social service within the African American community. Social services established by the clubwomen, such as travelers' aid, job training and placement, settlement houses, child and family welfare services, and preventive health care services, provided the foundation for the Urban League and the emergence of professional black social workers. The first black school of social work, the Atlanta School of Social Work, was a direct outgrowth of the activities of the Neighborhood Union Settlement.
Praeger, 9780313315633, 248pp.
Publication Date: April 30, 2001
About the Author
FLORIS BARNETT CASH is an Assistant Professor of Africana Studies and History at the State University of New York, Stony Brook. She teaches in the Department of Africana Studies and has courses affiliated with Women's Studies.