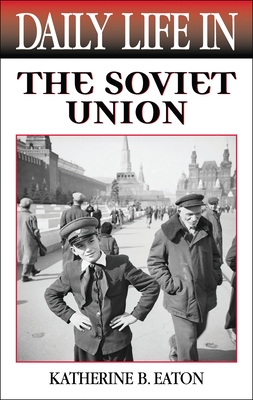 Daily Life in the Soviet Union
Hardcover

* Individual store prices may vary.
Description
Details what ordinary life was like during the extraordinary years of the reign of Soviet Union. Thirty-six illustrations, thematic chapters, a glossary, timeline, annotated multimedia bibliography, and detailed index make it a sound starting point for looking at this powerful nation's immediate past.
What was ordinary life like in the Soviet police state? The phrase daily life implies an orderly routine in a stable environment. However, many millions of Soviet citizens experienced repeated upheavals in their everyday lives. Soviet citizens were forced to endure revolution, civil war, two World Wars, forced collectivization, famine, massive deportations, mass terror campaigns perpetrated against them by their own leaders, and chronic material deprivations. Even the perpetrators often became victims. Many millions, of all ages, nationalities, and walks of life, did not survive these experiences. At the same time, millions managed to live tranquilly, work in factories, farm the fields, serve in the military, and even find joy in their existence.
Structured topically, this volume begins with an historical introduction to the Soviet period (1917-1991) and a timeline. Chapters that follow are devoted to such core topics as: government and law, the economy, the military, rural life, education, health care, housing, ethnic groups, religion, the media, leisure, popular culture, and the arts. The volume also has two maps, including a map of ethnic groups and languages, and over thirty photographs of people going about their lives in good times and bad. A glossary, a list of student-friendly books and multimedia sources for classroom and/or individual use, and an index round out the work, making it a valuable resource for high school as well as undergraduate courses on modern Russian and Soviet history. Copious chapter endnotes provide numerous starting points for students and teachers who want to delve more deeply.
Greenwood, 9780313316289, 344pp.
Publication Date: August 30, 2004
About the Author
KATHERINE B. EATON was for many years professor of English at Tarrant County College in Forth Worth, Texas. She has twice been a Fulbright Lecturer in Iasi, Romania. She is the author of The Theater of Meyerhold and Brecht and the editor of Enemies of the People: The Destruction of Soviet Literary, Theater, and Film Arts in the 1930s. Dr. Eaton has also written journal and encyclopedia articles and book reviews on the subject of Soviet theater.