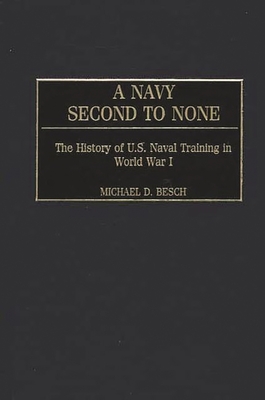 A Navy Second to None
The History of U.S. Naval Training in World War I (Contributions in Legal Studies #215)
Hardcover

* Individual store prices may vary.
Description
Previous studies of the American Navy's role in World War I have emphasized the combat and logistical tasks such as anti-submarine warfare, convoy protection, and the transportation of military supplies and troops to Europe. While these activities were of crucial importance in winning the war, the effort that involved the largest number of men was training. The Navy increased in size from about 59,000 men in late 1916 to nearly 530,000 by the end of the war in November 1918. In a brief 19 months, the Navy trained over 400,000 men. This story covers the three main divisions of enlisted training: the training stations, the reserve training camps, and the advanced or specialty schools, as well as an account of the building of the bases and changes in the curriculum.
Besch goes to great lengths to convey a sense of what life was like in the camps, stations, ships, and bases. In addition to all the major training locations, topics include: fleet, submarine, officer, and aviation training. Colleges and universities also played an important role in naval training. Sources for the study include archives from around the country, while stories drawn from diaries, letters, and oral histories add a personal element to the account.
Praeger, 9780313319099, 256pp.
Publication Date: November 30, 2001
About the Author
Michael D. Besch is associate professor of history at Concordia University in Wisconsin. He holds a BA in History and a teaching certification from the University of Wisconsin-Milwaukee, as well as an MA and a PhD in American History from Marquette University. Prior to Concordia, he served as Curriculum Coordinator for Finance and Business Planning, Center Director, and Dean and Director of Operations at Keller Graduate School. At Concordia, he serves as Vice-President of Adult and Continuing Education and also as a member of the Administrative Council, Academic Council, Concordia in the City Committee, Marketing Committee, and Portfolio Committee. He is a member of the Institute of World Affairs, the Naval Institute, the Coast Guard Auxiliary, and the Society of Automotive Historians.