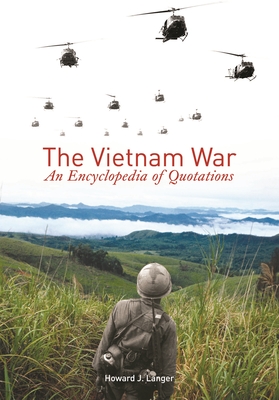 The Vietnam War
An Encyclopedia of Quotations
Hardcover

* Individual store prices may vary.
Description
The Vietnam War: An Encyclopedia of Quotations presents the story of this seminal conflict as told through the words of the famous, infamous, and anonymous. All sides of the controversy are presented in chronological resource that starts with a look at Vietnamese history, then traces the events preceding France's war, continues through America's entry into the conflict, and concludes with the war's aftermath.
This is the story of the Vietnam War told through quotations in chronological sequence. Starting with the beginnings of Vietnamese history, it traces the events preceding the French war, continues through the American war, and ends with its aftermath. All sides of the controversy are represented. Here are the voices of warriors, presidents, generals, government leaders, civilians, aid workers, pilots, infantrymen, nurses, historians, war correspondents, sociologists, POWs, peasants, draft dodgers, guerillas, and war resisters. They speak from government capitals, hooches, hospital wards, jungle trails, landing zones, aircraft carriers, draft boards, Buddhist temples, and prison cells. They talk of firefights, ambushes in the jungle, bombing raids, coups, assassinations, suicides, demonstrations, atrocities, and teach-ins.
Here are Ho Chi Minh, Lyndon Johnson, Giap, Westmoreland, Kennedy, De Gaulle, Eisenhower, Nixon, McNamara, Kissinger, and many people you have never heard of. Meet Hanoi Hannah, who broadcast propaganda from the North Vietnamese capital; John McCain tells you what it was like to be shot down over enemy territory and taken prisoner; John Kerry tells a U.S. Senate committee why he opposes the Vietnam War. You will learn about My Lai, Agent Orange, Kent State, the Pentagon Papers, and the plan to free American POWs that went awry. Features include a chronology, biographical sketches, Medal of Honor winners, bibliography, nineteen photos, and an index.
Greenwood, 9780313321436, 440pp.
Publication Date: June 30, 2005
About the Author
Howard J. Langer is an independent author and editor. He has been a journalist, magazine editor, textbook editor, and publications director for publishing companies and organizations. His recorded interviews are part of the Smithsonian-Folkways collection. He is the author of American Indian Quotations (Greenwood, 1996), World War II: An Encyclopedia of Quotations (Greenwood, 1999), and America in Quotations: A Kaleidoscopic View of American History (Greenwood, 2002).