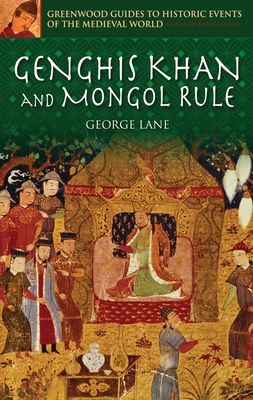 Genghis Khan and Mongol Rule (Greenwood Guides to Historic Events of the Medieval World) (Hardcover)
Greenwood, 9780313325281, 272pp.
Publication Date: September 1, 2004
Other Editions of This Title:
Paperback (3/15/2009)
* Individual store prices may vary.
Description
The Mongols are often associated with the arts of warfare and annals of horror, but a more realistic association would be their contribution to international trade and cultural exchange during the medieval age. Thematic chapters, biographical sketches, a glossary, maps, illustrations, and selected primary documents provide fresh insight on a regretfully underexamined period.
The legacy of the Mongols has often been associated with their contributions to the arts of warfare and annals of horror. A more realistic association would be their contribution to international trade and cultural exchange. Spawning an empire ranging from Persia to China, Genghis Khan united a nomadic warrior culture that had lived with their agrarian neighbors through controlled and limited extortion. It was a society whose leaders waged successful war and increased the tribe's prosperity. But the Mongols also understood it would serve their purposes to maintain commerce and agriculture, and to cultivate the arts in order that the luxuries they coveted would be all the more readily available. It was to this end that, after the first decades of destruction and rampage, the Mongols' policy changed to one of cooption and governance. The Mongols became effective cultural brokers as they forced, urged, bribed and coerced the movement of artists and artisans, scientists and scholars around their empire.
Thematic chapters provide an accessible overview of the Steppe people from which Genghis Khan emerged, and chronicle his ascent as the Great Khan, as he subdued enemies and then conquered lands to the east and west. Following are excellent overviews of the founding and cementing of Mongol rule in China--the Yuan Dynasty--and Persia, centered in Iran. A concluding chapter provides a fresh perspective of the Mongol empire and makes clear the relevance of this vast and influential period to the contemporary world. Useful endmatter for students and researchers includes sixteen biographical sketches of figures ranging from Yuan Dynasty founder Qubilai Khan to famed Italian merchant and traveler Marco Polo. A score of annotated primary documents provide immediate access to the issues of the period through the eyes of the people living through them. Five maps, an annotated timeline, a glossary and annotated bibliography and several illustrations round out this engaging and valuable resource.
About the Author
GEORGE LANE, Department of History, School of Oriental and African Studies, University of London. Dr. Lane spent twenty years seeking work, wisdom, and adventure in the Middle East and Far East, and returned to London and serious academic study in 1991, where he has been ever since. His focus is Islamic history, particularly in the Iran-Afghanistan-Central Asia regions, though more recently he has focused on relations between Iran and China during the 13th and 14th centuries. He is a contributor to The Greenwood Encyclopedia of Daily Life Through History (Greenwood, 2004), and author of Early Mongol Rule in 13th Century Iran (2003).