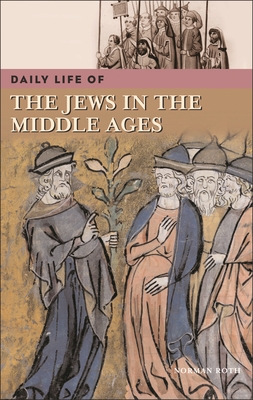 Daily Life of the Jews in the Middle Ages
Hardcover

* Individual store prices may vary.
Description
Though certainly not untouched by tragedy, the historical period of the Middle Ages was a dynamic and prosperous time for Jewish civilization; for despite the mass expulsions and periodic attacks that the Jews of the time suffered, they also managed prolonged periods of at least civil relations with the Christian and Muslim cultures that surrounded them, periods in which the Jewish culture at large produced great poetry and important philosophical and theological works, and made inspired contributions to mathematics and the sciences. Accessible to the general reader but enlightening also to the scholar, Norman Roth's account of the diverse and diffuse culture of Jewish daily life in the medieval world offers a direct look on this profoundly historical people, who through their unique relationship with the cultures that surrounded them touched obliquely on so much else in the world of the Middle Ages--as well as on that of the present day.
For ease of use by students, the work is organized into chapters covering all aspects of daily life: education, marriage and family life, the Jewish community at large, religious customs and observances, work, medicine, literature and the arts, the dangers of being Jewish, and the relationship between Jews and Gentiles. It includes a historical timeline of the critical events in the Jewish experience of the middle ages, a glossary of terms, and a bibliography for further reading. Throughout the work Roth shows the circumstances surrounding and at times invading Jewish life at the time, and paints a picture that is at once intimate and also comprehensive. This work will provide school and public librarians with a resource on Jewish culture that is unique, highly informative, historically accurate, and compelling to a high degree.
Greenwood, 9780313328657, 256pp.
Publication Date: October 1, 2005
About the Author
Norman Roth is Professor of Jewish History, Hebrew literature, and Jewish Studies at the University of Wisconsin, Madison. Over his long and productive career he has written and edited many books, including Maimonides, Essays and Texts (1985), Jews, Visigoths, and Muslims in Medieval Spain (1994), Conversos, Inquisitions, and the Expulsion of the Jews from Spain (1995), and Encyclopedia of Medieval Jewish Civilization.