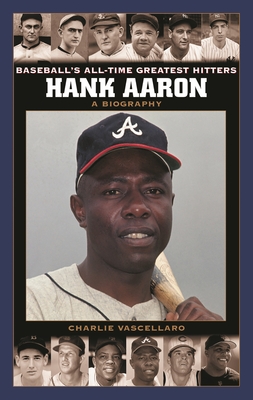 Hank Aaron
A Biography (Baseball's All-Time Greatest Hitters)
Hardcover

* Individual store prices may vary.
Description
At the time of Hank Aaron's birth in 1934, Babe Ruth reigned as baseball's home run king, and the Negro Leagues were an African American's only hope of playing professional baseball. Latent hopes for a different future thrived on Carver Park in Alabama, however, where a young Hank Aaron was soon to be seen perfecting the powerful stroke that would later make him one of the greatest hitters and most revered players in the history of the game. The owner of over 3,000 career base hits, the winner of two batting titles and one world championship, and the all time RBI leader and home run king, Hank Aaron began his historic career integrating the South Atlantic League, and spent much of his professional tenure as a member of the only major league team in the South. Despite the animosity that thus surrounded him both at home and on the road, Aaron never ceased to excel, and even achieved his most enduring feat-breaking Babe Ruth's career home run record-under threats to his own life. This enlightening biography provides a stunning portrait of one of the great hitters and great men of major league baseball history.
It has been said that hitting a baseball is the hardest thing in professional sports. Baseball's All-Time Greatest Hitters presents biographies on Greenwood's selection for the 12 best hitters in Major League history, written by some of today's best baseball authors. These books present straightforward stories in accessible language for the high school researcher and the general reader alike. Each volume includes a timeline, bibliography, and index. In addition, each volume includes a Making of a Legend chapter that analyses the evolution of the player's fame and (in some cases) infamy.
Greenwood, 9780313330018, 208pp.
Publication Date: April 1, 2005
About the Author
Charlie Vascellaro is a freelance journalist and regular contributor to Baltimore and Washington, D.C., newspapers and magazines, writing frequently on baseball and travel. A former 20-year resident of Arizona, his work annually appears in Cactus League spring training publications and in Arizona business and travel periodicals. Hank Aaron is his second book. He has also written a young reader biography on Dominican-born baseball player Manny Ramirez.