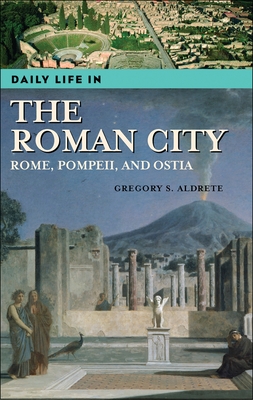 Daily Life in the Roman City
Rome, Pompeii, and Ostia
Hardcover

* Individual store prices may vary.
Other Editions of This Title:
Paperback (3/15/2009)
Description
Despite the fact that the majority of the inhabitants of the Roman Empire lived an agricultural existence and thus resided outside of urban centers, there is no denying the fact that the core of Roman civilization--its essential culture and politics--was based in cities. Even at the furthest boundaries of the Empire, Roman cities shared a remarkable and consistent similarity in terms of architecture, art, infrastructure, and organization which was modeled after the greatest city of all, Rome itself. In Gregory Aldrete's exhaustive account, readers will have the opportunity to peer into the inner workings of daily life in ancient Rome, to witness the full range of glory, cruelty, sophistication, and deprivation that characterized Roman cities, and will perhaps even gain new insight into the nature and history of urban existence in America today.
Included are accounts of Rome's history, infrastructure, government, and inhabitants, as well as chapters on life and death, the dangers and pleasures of urban living, entertainment, religion, the emperors, and the economy. Additional sections explore two other important Roman cities: Ostia, an industrial port town, and Pompeii, the doomed playground of the rich. This volume is ideal for high school and college students, as well as for anyone interested in examining the realities of life in ancient Rome. A chronology of the time period, maps, illustrations, a bibliography, and an index are also included.
Greenwood, 9780313331749, 296pp.
Publication Date: December 30, 2004
About the Author
GREGORY S. ALDRETE is Associate Professor of History and Humanistic Studies at the University of Wisconsin, Green Bay. He is the author of Gestures and Acclamations in Ancient Rome (1999), and editor of The Ancient World volume in The Greenwood Encyclopedia of Daily Life (Greenwood, 2004).