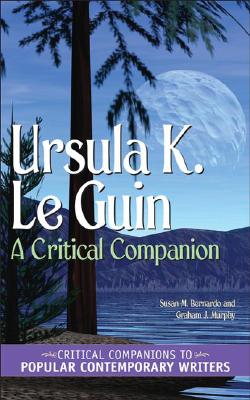 Ursula K. Le Guin (Hardcover)
A Critical Companion (Critical Companions to Popular Contemporary Writers)
Greenwood, 9780313332258, 198pp.
Publication Date: September 1, 2006
* Individual store prices may vary.
Description
Though science fiction has existed as a literary genre for well over a century, a working definition of the term has yet to be determined. Ursula K. Le Guin, who emerged as a popular science fiction and fantasy writer in the 1960s, has not only witnessed, but also experienced first-hand the shifts and transformations of this increasingly popular genre. Delve into her fantastical worlds and investigate several of her famous works in this study ideal for high school and undergraduate students. Learn about the author's life and decade-spanning career, as well as her numerous literary achievements. This comprehensive analysis of Le Guin's work will leave readers anxious for her future endeavors.
About the Author
Susan M. Bernardo is professor of English at Wagner College, Staten Island, New York. She teaches courses in Victorian literature, gothic and detective fiction, science fiction, fantasy, and fairy tales. She has published articles on George Eliot, Mary Shelley, Tim Burton, and C.J. Cherryh. She has also co-edited Gender Reconstructions: Pornography and Perversions in Literature and Culture and contributed an entry on Abandoned or Murdered Children to Archetypes and Motifs in Folklore and Literature. Her other research interests include Oscar Wilde's essays and fiction, and Anne Thackeray's stories.Graham J. Murphy is adjunct faculty at Trent University (Peterborough, ON) and Seneca College of Applied Arts and Technology (Toronto, ON). He teaches courses in science fiction, utopian fiction, and general survey courses in English Literature. He has published articles on William Gibson, Pat Cadigan, Melissa Scott, Robert Charles Wilson, and Greg Egan in such sources as Science Fiction Studies, Foundation, and Extrapolation. By an odd twist of fate he also co-edited The Irish in Popular Literature of the Early American Republic: Paddy Whacking. He was the 2005 Chair of the Philip K. Dick Award.