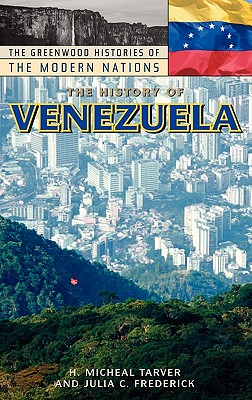 The History of Venezuela (Greenwood Histories of the Modern Nations) (Hardcover)
Greenwood, 9780313335259, 189pp.
Publication Date: November 1, 2005
Other Editions of This Title:
Paperback (11/28/2006)
* Individual store prices may vary.
Description
On his third voyage of discovery from Spain, Christopher Columbus sighted Venezuela. Spanish explorers observed native homes built on stilts at the water's edge and gave the land its name, which means little Venice. Venezuela became a Spanish colony for the next 300 years before the South American Independence Movement which liberated the country in 1821. After a brief period of unification with Colombia and Ecuador, Venezuela was then controlled by a succession of military dictators. Political strife and civil war followed. In the 1900s oil was discovered, military rule ensued, and Venezuela became the world's leading oil exporter, while the majority of the nation's people remained poor. In 1958, the country established a democratic government and has remained one since.
About the Author
H. Micheal Tarver is Department Head of Social Sciences and Philosophy at Arkansas Tech University.Julia C. Frederick is Director of Latin American History at the University of Louisiana at Lafayette.
or
Not Currently Available for Direct Purchase