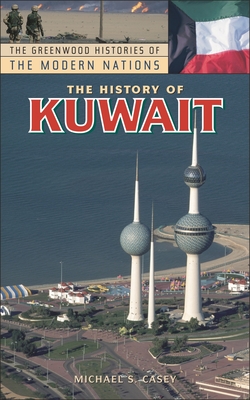 The History of Kuwait (Greenwood Histories of the Modern Nations) (Hardcover)
Greenwood Press, 9780313340734, 160pp.
Publication Date: August 30, 2007
* Individual store prices may vary.
Description
The tiny country of Kuwait grabbed the world's attention during the Gulf War, during which its natural petroleum resource became the envy of its neighboring country of Iraq. But Kuwait's history goes back long before any oil was discovered, back to Mesopotamian settlements as early as 3000 BCE. Ideal for high school students as well as general readers, History of Kuwait offers a comprehensive look at how such a small country could, essentially, rule the world with just one natural resource. From sheikhdom to British protectorate to independence to invasion, Kuwait's history is long and rich with culture. Michael S. Casey demonstrates how this Middle Eastern gem has grown throughout the centuries.
About the Author
Michael S. Casey is Professor of the Humanities at Graceland University in Iowa. He holds a doctorate in Philosophy and writes extensively on military history. He is co-author of Teaching the Korean War: An Instructor's Handbook. As a member of the Kuwait-United States Defense Review Group, he helped to plan the rebuilding of Kuwait's post-war national defense, during which time he lived in Kuwait and worked with the top echelons of Kuwait's defense establishment.