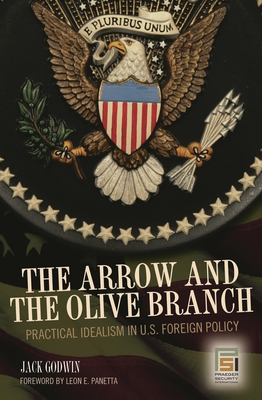 The Arrow and the Olive Branch (Hardcover)
Practical Idealism in U.S. Foreign Policy (Ethics of American Foreign Policy)
Praeger, 9780313348204, 224pp.
Publication Date: November 1, 2007
* Individual store prices may vary.
Description
The Arrow and the Olive Branch tells a unique version of American history. Godwin tracks down every major presidential statement on foreign policy from George Washington to George W. Bush, reconstructs the doctrine of practical idealism, and guides the reader on a journey to rediscover America's timeless foreign policy principles.
The Arrow and the Olive Branch is a cross between The Federalist Papers, the instructions our founding fathers wrote explaining how the Constitution should work, and The Prince, Niccolo Machiavelli's 16th-century treatise on statecraft. It begins with the 9/11 attacks, and then goes back to George Washington's 1796 Farewell Address, in which he warned his compatriots of the dangers of foreign entanglements. It then reconstructs the doctrine of practical idealism chronologically, examining every foreign policy precedent set by every president since Washington. Less than three decades after Washington left office, for example, James Monroe declared the Western Hemisphere off limits to future European colonization. In the mid-19th century, Ulysses Grant asserted that the Monroe Doctrine gave America the right to intervene in Cuba's fight for independence, but counseled restraint in the use of American power. In the early 20th century, Theodore Roosevelt redefined the scope of the Monroe Doctrine, asserting that America's sphere of influence included the entire world. After World War I, Woodrow Wilson envisioned a new international system based on open diplomacy, free trade, and self-determination.
From gunboat diplomacy to dollar diplomacy, from world war to limited war, cold war to preemptive war, The Arrow and the Olive Branch tells a unique version of American history and illuminates many of the international challenges we face today. Anyone who believes the old adage that politics should end at the water's edge will find this book to be an invaluable resource. Relying exclusively on primary documents rather than secondary sources, the book is carefully researched and strictly nonpartisan. Despite shifting alliances, historical events, and technological advances, the doctrine of practical idealism has not changed much in more than 200 years.
About the Author
Jack Godwin is a political scientist with extensive experience in business, government, and higher education spanning more than two decades and dozens of countries. He currently serves as Chief International Officer at California State University, Sacramento. He has a doctorate in political science from the University of Hawaii and degrees from San Francisco State University and the University of California, Berkeley. He is a member of the Pacific Council on International Policy. He was a Fulbright Scholar in Japan, Germany, and Hungary, and a Peace Corps Volunteer in Gabon.