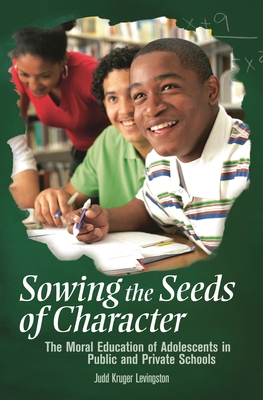 Sowing the Seeds of Character
The Moral Education of Adolescents in Public and Private Schools (Educate US)
Hardcover

* Individual store prices may vary.
Description
Sowing the Seeds of Character: The Moral Education of Adolescents in Public and Private Schools is a book for all teachers and parents. It rests on the premise that the moral education of students falls within the purview of schools, whether they assume responsibility for it or not. Regardless of the place of moral education in the formal curriculum, all teachers serve as moral exemplars to their students, for good or for ill. Teachers of science, social studies, history, and literature courses cannot help but inculcate moral sensibility and attitudes in their students by the ways in which they lead them to grapple with--or glide over--the moral implications of what they teach.
Judd Kruger Levingston draws many lessons and examples from his extensive research and teaching experience in Muslim, Jewish, Roman Catholic, public, Quaker, and Chinese schools. He argues that teachers should become proficient in directing role-playing simulations of moral decision-making as morally complex topics arise within the standard curriculum.
Praeger, 9780313351914, 204pp.
Publication Date: June 1, 2009
About the Author
Judd Kruger Levingston is a rabbi and educator. He lives in Philadelphia where he teaches at a Jewish day school and at Temple University.
or
Not Currently Available for Direct Purchase