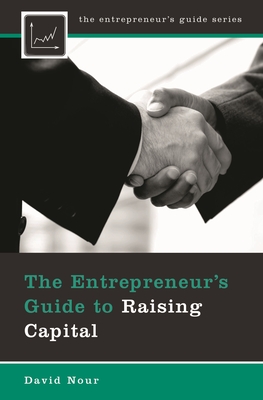 The Entrepreneur's Guide to Raising Capital (Hardcover)
Praeger, 9780313356025, 188pp.
Publication Date: March 20, 2009
* Individual store prices may vary.
or
Not Currently Available for Direct Purchase
Description
Ask any established business owner to identify his or her toughest challenge when just starting out, and you'll likely get this answer: raising capital. Most aspiring entrepreneurs know far too little about the sources of money that can help start a business or fuel its growth. Where do you get capital? What are investors looking for? How do you ask for money in a way that gets results? This book answers these and many other critical questions. Even more important, entrepreneur and consultant David Nour shows how to develop long-term relationships with financial partner the people who can help keep a business humming throughout its life.
The Entrepreneur's Guide to Raising Capital, designed to help entrepreneurs navigate the money-raising maze, shows how to attract financing to fund the start-up and growth phases any business moves through. It answers the most common and the most perplexing questions entrepreneurs have about financing a business: How do I put together a credible request for funds? How do I choose wisely from among the plethora of financial and strategic investors, consultants, investment bankers, and other intermediaries? How do I identify and avoid the risks associated with various sources of capital? How do I plan for the right kind, amount, and source of smart capital as the business evolves? How do I get the highest return on invested capital? How do I avoid the biggest mistakes entrepreneurs make when raising capital?
This book provides real-life, pragmatic advice from entrepreneurs who have raised money from friends, family, angel investors, and banks, as well as institutional investors such as venture capitalists and private equity firms. It details the process from start to finish while spotlighting the danger spots and ways to avoid them. It will be especially useful to those who are uncomfortable making important financial decisions, and to those who are confused by all the conflicting opinions offered by advisors both well meaning and otherwise. By showing readers the financing ropes, Nour removes a major source of stress for budding entrepreneurs and moves them closer to their dream come true: a successful business.
About the Author
David Nour, is the founder of Relationship Economics and managing partner of The Nour Group, Inc. He is a social networking strategist and one of the foremost thought leaders on the quantifiable value of business relationships. A management advisor and featured speaker for corporate, association, and academic forums, Nour has been featured in a variety of publications including The Wall Street Journal, The New York Times, The Atlanta Journal and Constitution, SmartMoney.com, Forbes Small Business, Success and Pink Magazine. The author of two books, he holds an Executive MBA from Emory University.
Advertisement