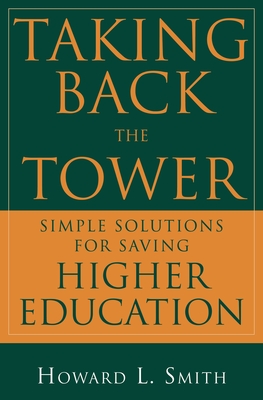 Taking Back the Tower (Hardcover)
Simple Solutions for Saving Higher Education
Praeger, 9780313362743, 207pp.
Publication Date: March 20, 2009
* Individual store prices may vary.
Description
Academia is in trouble. Taxpayers are fed up with the enormous expenses associated with public universities, as well as administrators whose strategies and goals are fuzzy at best and destructive at worst. Parents worry about how they will find the wherewithal to send their offspring to college. Employers question the ability of new graduates and degree holders to write or reason lucidly. And everyone (except entrenched faculty members) questions the practice of tenure, which generally creates an incentive for mediocrity. Meanwhile, academic authorities responsible for managing our august institutions of higher education pontificate about the problems without delivering meaningful solutions. But meaningful solutions do exist, and this book explains them in depth. Taking Back the Tower, a compendium of no-nonsense, management-oriented lessons and prescriptions for the academy, will go a long way toward restoring the respect our colleges and universities deserve.
Taking Back the Tower focuses squarely on bringing common sense to higher education by urging creative thinking, especially out-of-the-box approaches, in promoting change. It offers numerous solutions, many of which will be seen as quite controversial by the establishment. Smith outlines how to overcome resistance to change, lead more effectively, demand accountability for performance, manage resources for the highest return, remain firm with tuition payers and donors when warranted, manage costs to help keep the price of an education contained, and much more. The secret is in managing the few key variables that will have the biggest impact on overall results. The ideas are wholly practical and much less philosophical than those in most books on the subject. Following them will help schools improve results across the board. Smith's decades of experience as both a teacher and administrator in academia, as well as a consultant for many public and private-sector organizations, make him the perfect author for this book. Moreover, his insights, coupled with the many enlightening and entertaining examples (all true) will capture the attention of readers and help them understand why change must come--and why it must be radical.
About the Author
Howard L. Smith is Vice President for University Advancement at Boise State University and former Dean of the College of Business and Economics. From 1994 to 2004, he was dean (1994-2004) at the Anderson Schools of Management and School of Public Administration, University of New Mexico. He was also Director of the Program for Creative Enterprise and the Creative Enterprise Endowed Chair. The author of eight books, he has published over 220 articles on topics in health services, organization theory/behavior, and strategic management in journals such as the Academy of Management Journal, Health Services Research, Health Care Management Review, and the New England Journal of Medicine.
or
Not Currently Available for Direct Purchase