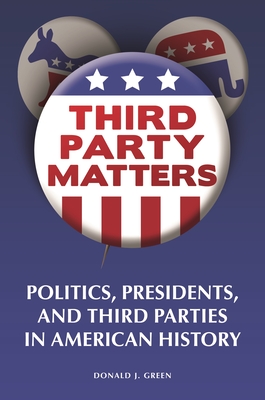 Third-Party Matters: Politics, Presidents, and Third Parties in American History (Hardcover)
Politics, Presidents, and Third Parties in American History
Praeger Publishers, 9780313365911, 185pp.
Publication Date: June 2, 2010
Description
Third parties have been a fixture in the American political landscape since the beginning of the two-party system. More than 300 of these groups have surfaced, but only a handful have made a real difference. "Third-Party Matters: Politics, Presidents, and Third Parties in American History" tells the intriguing stories of those 11 parties, starting with the antislavery Liberty Party of 1840.
The parties deemed worthy of inclusion were selected because they met at least one of three criteria. They were spoilers who changed the outcome of an election, they had an important influence on government policy or the future of politics, and/or they had popular appeal, attracting at least ten percent of the vote. This investigation reveals the background behind each party's rise, what it stood for, who its leaders were--including larger-than-life personalities like Teddy Roosevelt, George Wallace, and Ross Perot--and the ultimate outcome of the election(s) in which the party participated.
About the Author
Donald J. Green is adjunct lecturer of history at Hillsborough Community College, Tampa, FL.
Advertisement