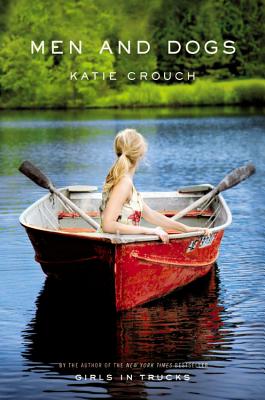 Men and Dogs (Hardcover)
Little, Brown and Company, 9780316002134, 288pp.
Publication Date: April 1, 2010
* Individual store prices may vary.
or
Not Currently Available for Direct Purchase
Description
When Hannah Legare was 11, her father went on a fishing trip in the Charleston harbor and never came back. And while most of the town and her family accepted Buzz's disappearance, Hannah remained steadfastly convinced of his imminent return.

Twenty years later Hannah's new life in San Francisco is unraveling. Her marriage is on the rocks, her business is bankrupt. After a disastrous attempt to win back her husband, she ends up back at her mother's home to "rest up", where she is once again sucked into the mystery of her missing father. Suspecting that those closest are keeping secrets--including Palmer, her emotionally closed, well-mannered brother and Warren, the beautiful boyfriend she left behind--Hannah sets out on an uproarious, dangerous quest that will test the whole family's concepts of loyalty and faith.
About the Author
Katie Crouch is the author of the bestselling novel Girls in Trucks. Her writing has also appeared in The New York Observer, Tin House, and McSweeney's. She lives in San Francisco, a city filled with men and dogs, one or two of which reside with her from time to time.
Praise For Men and Dogs…
"Katie Crouch is an American original. Men and Dogs is an opus of the struggle between a daughter and her father and the wounds and jubilation carried from that relationship into marriage and adulthood. It is, in turns, poignant, revealing, hilarious and sad. This is a great pick for book clubs everywhere! Katie's novel will not only inspire a lively discussion, it will ignite one!"
-Adriana Trigiani, bestselling author of Big Stone Gap, Lucia, Lucia, and Very Valentine

"Katie Crouch is at her stealthy best in this tale of unresolved memories and early mid-life crisis. Men and Dogs sucks you in and won't let go."
-Lucinda Rosenfeld, author of I'm So Happy for You

"Katie Crouch's great gifts-a wry, unflinching intelligence and the ability to create flawed, complicated characters-drive this story of a woman who must reckon with her past in order to move into her future. Hannah is exasperating, magnetic, and breathtakingly real."
-Marisa de los Santos, author of Belong to Me and Love Walked In

"Katie Crouch's novel-about hope, healing, and coming home Southern-style-is not only moving and suspenseful and wise, but hilarious! Suffused with sassy intelligence and warmth, Men and Dogs gripped me from the first page and wouldn't let go."
-Irina Reyn, author of What Happened to Anna K.

"In Men and Dogs, Katie Crouch serves up a heartfelt reminder to Southerners-gone-astray why we love the South, why we left it, and why we inevitably return. Smart, stubborn, and hell-bent on self-destruction, Hannah is the kind of heroine you want to be friends with in your other, messier, more interesting life. Best experienced on a porch swing (mimosas optional), this novel is a winner."
-Michelle Richmond, author of The Year of Fog

"as in her best-selling Girls in Trucks, [Crouch] writes with a dark, twisty, but approachable Southern charm."
-Library Journal

"Prepare to have your heart broken while laughing out loud at this breathtaking, scathingly sardonic novel. From her opening line-"Two days before Hannah's father disappeared, he took her out in his boat"-Crouch grabs you and never lets go.... Crouch renders San Franciscans in caustic living color... When Hannah goes home to Charleston to dry out and try to find her father, Crouch brings her eccentric Southern kinfolk to life with equal verve. In the hands of a less adept author, this tightly wound tale of one woman's unraveling and redemption might seem more grim than guffaw-worthy. But with Crouch in charge, the reader is assured of a reflective yet riotous ride." Four stars.
-People

"wonderful .... Despite her quick wit and caustic humor, Hannah is a haunted figure--she's never come to terms with the loss of her father, who disappeared without a trace on a fishing trip, presumed to have drowned, when she was 11 years old.... Crouch is too smart a writer to craft a damaged-woman-goes-home-again-and-finds-healing-and-redemption story. She knows that real life all too often disappoints.... Men and Dogs is an absorbing mystery.... Yet it's a compelling family drama, too, with enough dark humor tossed in at unexpected moments, thus avoiding melodrama. Crouch blends these elements seamlessly--and rather than deliver an eye-rolling happy ending, she gives us exactly the ending we hope for."
-San Francisco Chronicle
Book Videos
Advertisement