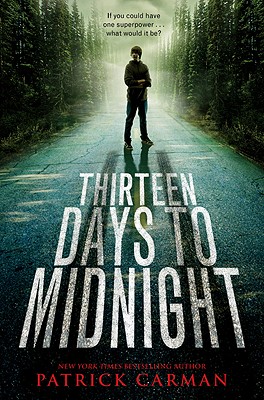 Thirteen Days to Midnight (Paperback)
Little, Brown Books for Young Readers, 9780316004046, 304pp.
Publication Date: April 5, 2011
Other Editions of This Title:
Digital Audiobook (4/11/2010)
Hardcover (4/12/2010)
* Individual store prices may vary.
Description
You are indestructible. These are the words that transfer an astonishing power to Jacob Fielding... and it changes everything. After all, there's something addictive about testing the limits of fear, experiencing the thrill of walking through fire, or saving your friend from a beating in front of the whole school.

Then Ophelia James, the beautiful and daring new girl in town, suggests that they use the power to do good, to save others at risk of death. But with every heroic act, the power grows into the specter of a curse. How to decide who lives and who dies? And why does darkness seem to be chasing them? Jacob only has thirteen days to figure out how to harness this terrifying power... and the answer is chilling: What if he has to kill the one he loves to save her?

In the context of a dark, unconventional superhero story, Patrick Carman has envisioned a high concept tale of intrigue, romance, friendship and adventure that probes deep into what teens face as they enter young adult years: navigating increasingly complex choices with greater consequences, as well as the gray areas blurring the definitions of right and wrong.
About the Author
Patrick Carman is the New York Times bestselling author of such acclaimed series as The Land of Elyon and Atherton. Most recently, he authored The Black Circle, the fifth title in the 39 Clues series, and the groundbreaking Skeleton Creek series. An enthusiastic reading advocate, he has visited more than 750 schools, developed village library projects in Central America, and created author outreach programs for communities. He lives in Walla Walla, Washington with his family.