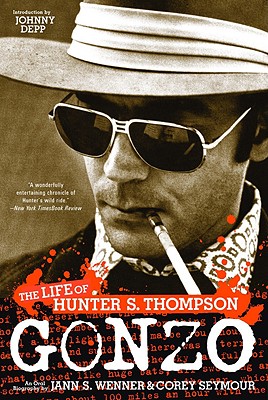 Gonzo
The Life of Hunter S. Thompson
Paperback

* Individual store prices may vary.
Description
Few American lives are stranger, more action-packed, or wilder than that of Hunter S. Thompson. Born a rebel in Louisville, Kentucky, Thompson spent a lifetime channeling his energy and insight into such landmark works as Fear and Loathing in Las Vegas - and his singular and provocative style challenged and revolutionized writing.

Now, for the first time ever, Jann Wenner and Corey Seymour have interviewed the Good Doctor's friends, family, acquaintances and colleagues and woven their memories into a brilliant oral biography. From Hell's Angels leader Sonny Barger to Ralph Steadman to Jack Nicholson to Jimmy Buffett to Pat Buchanan to Marilyn Manson and Thompson's two wives, son, and longtime personal assistant, more than 100 members of Thompson's inner circle bring into vivid focus the life of a man who was even more complicated, tormented, and talented than any previous portrait has shown. It's all here in its uncensored glory: the creative frenzies, the love affairs, the drugs and booze and guns and explosives and, ultimately, the tragic suicide. As Thompson was fond of saying, "Buy the ticket, take the ride."
Back Bay Books, 9780316005289, 512pp.
Publication Date: October 20, 2008
About the Author
Jann S. Wenner is the founder, editor and publisher of Rolling Stone. He was Hunter Thompson's editor for 35 years.

Corey Seymour is a writer and editor who worked with Hunter Thompson at Rolling Stone in the 1990s.