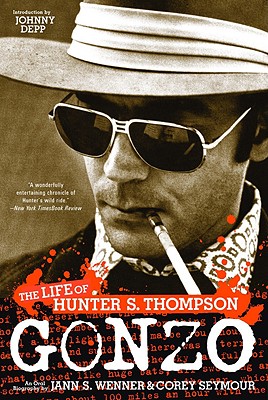 Gonzo (Paperback)
The Life of Hunter S. Thompson
Back Bay Books, 9780316005289, 512pp.
Publication Date: October 20, 2008
* Individual store prices may vary.
Description
Hailed everywhere as a brilliant biography, GONZO is a startling portrait of Hunter S. Thompson, the genius who spent a lifetime channeling his energy and insight into such landmark works as
Fear and Loathing in Las Vegas--
and revolutionized the art of writing. In their own words, an incredible array of stars--Sonny Barger, Jack Nicholson, Ralph Steadman, Jimmy Buffett, Anjelica Huston, Marilyn Manson, Jimmy Carter, and many more--bring into vivid focus Thompson's creative frenzies, love affairs, drug use, and, ultimately, his tragic suicide. As Thompson was fond of saying, "Buy the ticket, take the ride."
"
Gonzo
...is no hagiography, and it is in its unflinching look at this singular character in American letters as fearless-if not more so-as anything Thompson ever dared write....The most comprehensive picture of Thompson so far, and...likely the best we'll ever get." --Patrick Beach,
Austin American-Statesman
"A fond and exhilarating look back at the wild man of American journalism, put together by a couple of guys who were pretty close to him." --
Billy Heller, New York
Post
About the Author
Jann S. Wenner is the founder, owner and editor of Rolling Stone magazine. He is also the head of Wenner Media, which includes such magazines as US Weekly and Men's Journal. He lives in Manhattan.

Corey Seymour is a writer and editor who came to know Hunter Thompson while working as his New York-based assistant during his tenure at Rolling Stone in the early nineties. He lives in Brooklyn.