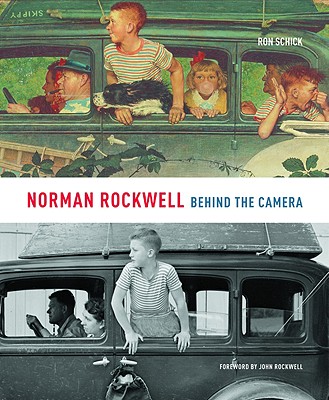 Norman Rockwell
Behind the Camera
Hardcover

* Individual store prices may vary.
Description
Norman Rockwell: Behind the Camera is the first book to explore the meticulously composed and richly detailed photographs that Norman Rockwell used to create his famous artworks.

Working alongside skilled photographers, Rockwell acted as director, carefully orchestrating models, selecting props, and choosing locations for the photographs -- works of art in their own right -- that served as the basis of his iconic images. Readers will be surprised to find that many of his most memorable characters -- the girl at the mirror, the young couple on prom night, the family on vacation -- were friends and neighbors who served as his amateur models.

In this groundbreaking book, author and historian Ron Schick delves into the archive of nearly 20,000 photographs housed at the Norman Rockwell Museum. Featuring reproductions of Rockwell's black-and-white photographs and related full-color artworks, along with an incisive narrative and quotes from Rockwell models and family members, this book will intrigue anyone interested in photography, art, and Americana.
Praise For Norman Rockwell: Behind the Camera…
What a wonderful book this is--and what a rare behind-the-scenes look at the artistic process it provides. So many of the moments we see as impossibly idealized versions of us are in fact us. Rockwell's genius improves with this 'backstage' glance.—Ken Burns, Emmy Award-winning documentary filmmaker

A wonderful new book by Ron Schick . . . that lifts the curtain on Rockwell's working methods, revealing how profoundly labor-intensive and thoughtfully imagined they were.—David Kamp, Vanity Fair

Chronicler of midcentury Americana Norman Rockwell often recruited friends and neighbors to pose for the photos that he then used to create the iconic images we know and love. Until now, that part of the painter's process remained mostly hidden, but historian Ron Schick's new book Norman Rockwell: Behind the Camera reveals the primary texts next to the colorful classics they became, and the result is truly impossible to put down. —Elizabeth Bougerol, NBC NewYork.com

Norman Rockwell: Behind the Camera, written and compiled by Ron Schick, has given me immense newfound respect for the man, for the meticulous photography, the real people and the unintentionally hilarious DIY props and sets that he required to make his painted fantasies of Americana come true —Wilson Rothman, Gizmodo.com

This is a book about one of our great homespun artists that will make you laugh, and also make you think. It's a real treasure. —Alan Cheuse, NPR
Little, Brown and Company, 9780316006934, 224pp.
Publication Date: October 22, 2009
About the Author
Ron Schick is a writer and editor specializing in the history of photography. He is the author, with Julia Van Haaften, of The View from Space: American Astronaut Photography. Schick lives in New York City.
or
Not Currently Available for Direct Purchase